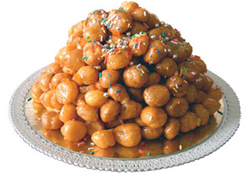 Ingredients:
4 eggs (2 whole and 2 yolks)
500 g flour
2 tablespoons of sugar
2 tablespoons of oil
grating lemon zest
a little of liquor
a pinch of salt
1 liter of oil
250 g honey
white and colored sugared almonds to decorate
Directions:
Struffoli is a fried dough of eggs and flour. Forming a fountain with flour, add all ingredients and work until flour is absorbed.

Divide the dough into equal parts and roll out one piece at a time with hands forming a sort of snake -shaped homogeneous (it is 1/ 2 cm in diameter). Cut with a knife or with a plastic spatula into small pieces 1/2 inches in length and sprinkle lightly with flour. Do this until you finish the dough.
Bring the oil to a medium-high temperature and fry until struffoli turn golden.
When all the pieces have been fried, take a pan and put 250 gr. honey, 1 tablespoon of sugar and let melt on low heat for a few seconds, then add the struffoli.
Remove them from the pan and place them in a hot dish.
Embellish them with white and colored sugared almonds.

See all photos about the Christmas recipes