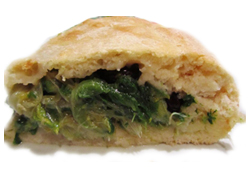 Ingredients:
Ingredients for 4 servings:
1/2 Kg of bread dough
150 g of olives of Gaeta
5 salted anchovies
4 heads of escarole
a handful of raisins
pickled capers
pine nuts, olive oil and salt.

Directions:
Peel the endive, wash it, put in plenty of salted water to a boil and cook for about 15 minutes. Drain, let cool and squeeze it well in hands. Soak in warm water for a quarter of an hour raisins, wash and bone anchovies and olives pitted cut them into small pieces.
Grease a baking sheet thoroughly and roll out the dough. Heat in a pan 4 tablespoons of oil, add anchovies, olives and a spoonful of capers. Always stirring with a fork, let cook for about ten minutes, then add a tablespoon of pine nuts and raisins squeezed. Sprinkle the dough with two tablespoons of oil, put over the endive and sauce mixture. Bake in a preheated oven at 250 ° for about 20 minutes, taking care to place the pan in the lower part of the oven.
See all photos about Christmas recipes