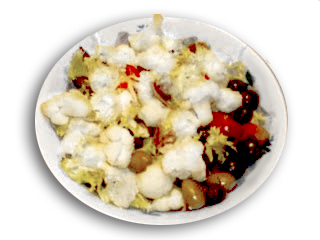 Ingredients:
1 medium-sized cauliflower
2 pickled peppers
Between 200 gr onions, cucumbers, green beans, carrots and celery pickle
5 or 6 salted anchovies
50 g of olives from Gaeta
50 g green olives
1 ½ dl olive oil
three tablespoons of white vinegar
salt
Directions:
Boil the cauliflower in salted water, let cool and place in a salad bowl by cutting it into small pieces. Stir in the peppers cut into strips, pickles, olives, salted anchovies fillets, olive oil and vinegar. Mix well and add salt if necessary. This salad should be prepared at least 24 hours before serving.
See all christmas recipes of Ischia