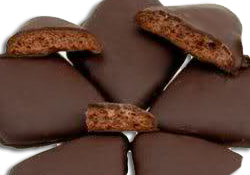 Typical Neapolitan cake. It is produced by tradition, during the Christmas season.

Ingredients:
1 kg of flour
800 g sugar
5 g ammonia
3 sachets vanilla
8 g cinnamon
7 g cloves
1 cup of liquor
100 g unsweetened cocoa powder
Dark chocolate (with brush)


Directions:
On the countertop mix flour, sugar, cloves, cinnamon and ammonia.
Open the mixture in the center and put the cocoa, the liquor, vanilla.

Mix everything together, slowly adding warm water and worked until the mixture is smooth and homogeneous. Roll out the dough half inches high. Divide it into strips 8 cm wide and cut the diamonds or help you with the molds.
Bake at 160 ° C. for twenty minutes in a pan with parchment paper.
Melt the chocolate in a bain marie .
With a kitchen brush to spread the chocolate on the back of the diamond, let the chocolate solidify.
Take the diamonds and dip the other side in the liquid chocolate and place mostacciol, thus obtained, on a rack dropping the excess chocolate.
The mostaccioli will be ready when the chocolate will completely solidified.

See all photos about the christmas recipes of Ischia