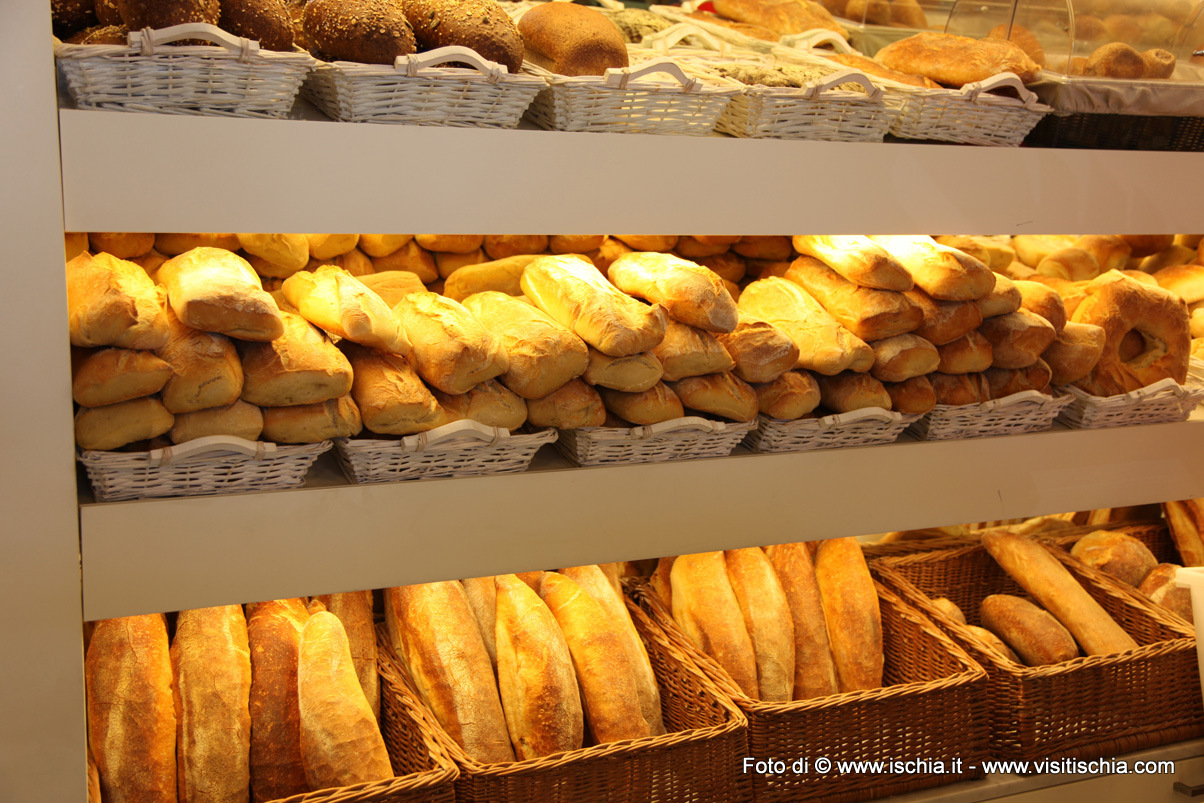 In Forio, right at the entrance of one of the most beautiful streets of the old town, that one of San Gaetano and a short walk from the harbor, you will find yourself in front of a room with a short story (opened in 2012) but already famous with loyal customers. We're talking about the bakery NONNO FRANCHINO, built in August 2012, the result of experience handed down from father Maurizio Capuano, Nonno Franchino, already renowned baker of Forio.
Here come a place where the aroma of bread will leave you spellbound, wanting to return soon to enjoy delicacies mixed with mastery by man.
"We started right away with the bread", says Maurizio, "but right now we then matched to it cakes and other local specialties, you can say that every product is now a true success continued in time".
For the coming Christmas are already in production Roccocò, Christmas cakes, panettone, struffoli and pizza with endive, but one of the real strengths of this simple and cozy bakery is the fact to not be limited to the production of a product in a single moment of the year, in fact it is proposed and repeated in every season: here then here you can enjoy the famous 'pastiere' of Easter even at Christmas and Rococo in the middle of Summer!
Certainly one of the "flagship" of the bakery NONNO FRANCHINO is definitely Pizza with escarole "in Forian way" which is mainly fried with the addition of cooked wine, walnuts, pine nuts, green and black olives. We recommend you to taste it!
Other homemade specialties are the "crumbled with Nutella", unique "tortano" filled with cheeses and cold cuts, "Migliaccio" which is a dessert made with spaghetti, Neapolitan sandwich and pastiere.
In addition to the classic bread you can taste the bread, Kamut flour, spelled with multi grain bread rolls and milk!
The NONNO FRANCHINO bakery is not only bread or similar products but also gastronomy itself with two first, one second and two side dishes available every day between baked pasta, lasagna, Sicilian pasta, broccoli pasta and sausages, roast beef, meatloaf, chicken and rabbit.All this is not enough for you? Here again is the famous braids brioche dough stuffed with meats and cheeses, broccoli, sausage and provolone! And yet the fantastic Neapolitan rustic stuffed with ricotta cheese and salami!
The bakery NONNO FRANCHINO is open weekdays and holidays, from 7 am to 21 pm, working bread starts at 5 am to be ready for opening day.
NONNO FRANCHINO is the ideal place for a wonderful refreshing break during your Christmas stay in Forio, after a relaxing stroll along the course or to the Church of Soccorso where you can enjoy a sunset with intense and enchanting colors.
There are now so many loyal customers of NONNO FRANCHINO: the courtesy, the simplicity, the exquisite richness of the products have made it a point to stop at least once during the day. And if in the morning you feel like something sweet, let groped by tasty croissant, a cream or chocolate of NONNO FRANCHINO: a real specialty to satisfy the palate!
The commitment of this close-knit team so will amaze you and pushing you to go back to a place where the flavor of the bread is as intense as what it once was!
What's better than a Christmas spent with the family enjoying the delights of NONNO FRANCHINO?
The delicacies don't less such as the passion that this family has from the outset to offer its customers the best of tradition and good flavor of yore.
NONNO FRANCHINO awaits you with its specialty, made for a Christmas tradition and intense flavors to taste in every moment the savour of the real home cuisine!