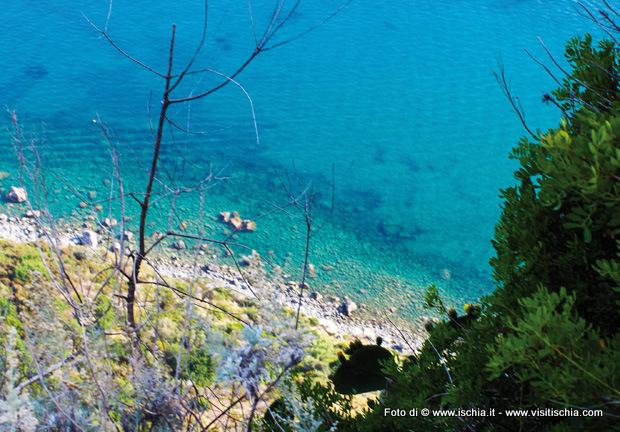 I walked along the Piana Liguori and was an amazing experience for me. I was already full of bucolic expectations... but the reality has gone far beyond all that. To reach Piana Liguori, in my cousin Simona's company, we chose to go cycling to the bewilderment of "villagers" who could not believe we were islanders went adventuring. Definitely the funniest part was asking how to get this wonder.
Everyone knew where it was... but no one had really been! However, the bicycle was soon proved wrong choice, arrived at the district Vatoliere in Barano, we followed a road alongside the Church of S.Antuono and that has brought us, at the end of a severe slope, the enchanting Church of Our Lady of the Montevergine in Schiappone. From there began the walk, at first there were campaigns and basements, trees loaded with apricots and artichokes in bloom, hanging the roots of oak and white willow. Then the scenario has changed. We're on a cliff, "la Sgarrupata", to contemplate the sea and the south-east coast of the island: untouched nature and wild landscapes. The point of the Lady, Monte Cotto, the Guardiola and beautiful butterflies on display for an infinite time. Ecstatic, we resumed the journey along a dirt path dedicated to Angelo Vannini, a brave soldier, gold medal for bravery, died for his country in Plava in 1915.
Following the rocky coast and going up rocky stairs, we found ourselves again in a fertile countryside alive with goats and chickens... then the vineyard. And here it is right to commend those who have not given up to love the land that even in such a remote place is generous and rewarding. A land that smacks of old, passion, experience and hard work. I think I found in those vineyards, the most clear and sincere expression of the relationship between man and nature. And I get emotional because I still have much to learn about the origins of my island. Looking away from the large leaves of the vine, we are left once again enchanted by Punta San Pancrazio: the keeper of the "grotto verde" and "spiaggia dell'amore". The top view is simply impressive: lava rock surrounded by the greenest of the Mediterranean vegetation. And even there, the Ischian essay occurred on tiptoe, a vineyard and a perfect oratory... perhaps a church, testify a profound respect that our ancestors had for this place.
Just when we thought we had seen everything, we found in the heart of ancient civilizations and rural Ischia. The village consists of a few houses, some of which are still inhabited. In front of the house most of the village, an old phone booth and I try to imagine how was important in that village, in the 60's, this cabin. For those who are lucky enough to visit it, this is the place where time has stopped... but for those who have the courage and tenacity to live it, this is the place that time has not "exploited". Ciro knows something, who with his family keeps the old traditions of this land and should become, for all of us from Ischia, an example of an authentic life. Following the rhythms of nature , such as waiting until the beans to dry in the sun on a slab of lapilli and then store it for winter, would be helpful for some relief in this difficult time. We from Ischia can offer resources that other places try to invent, to build and there is no need to employ experts to develop strategies... suffice it to ask Ciro and those like him still believe in the land. In all these movements there is the wisdom of generations in any tourist economics textbook you can learn.
Not far from the village, there is another example of genuine hospitality, a basement where its farmer Francesco under a vine pergola offers his fine wine and land products.
Our walk ended at sunset in Campagnano and breathtaking views have escorted from the Church of the Annunciation. The Aragonese Castle, the cliffs of St. Anna and her small church we have admired from the Mazzella building, better known as Palazzo Quartaruolo where Valerio has kindly welcome and greet!
There is much to learn in this place from these people. If I had the presumption to tell tourists on the island to know and love it, I was wrong. A walk like this has left me bewildered. We, islanders, must rediscover and internalize our ancient traditions: the soul of our rural ancestors, that friendly islander hospitality and respect for the land that hosts us. This is the island that I love and that I would return to live in the experiences of you, tourists, that visit it, and of us, islanders, that inhabit it every day.