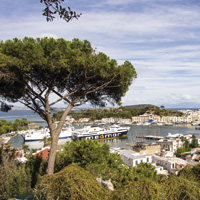 From 1 October 2014, the private shipping company, Medmar, offers to all islanders the opportunity to ferry the car at a special rate, 40€ for a return ticket of any length. Until next March 15, 2015 will be enough 20 euro to travel on board by car and even just ten for a scooter or a motorcycle registered in Ischia.
These rates will be accessible for all Medmar connections to and from the island of Ischia, to the routes of Naples and Pozzuoli, without limitation of time or type of connection, whether with public service obligations or residual.
Freedom of choice for the 22 daily connections that Medmar insures during the winter period, thus ensuring the possibility of starting at different time, with departures from the island from 02:30 to 17:00 and arrivals to the island from the mainland from 04.10 to 19.00.
It is also possible to book the place on board ships of Medmar at promotional rates for residents will be quick and simple: in addition to the ticket offices of Ischia, Cassamicciola, Pozzuoli and Naples Porta di Massa reservations can also available by telephone by calling 081 / 333.44.11.
The promotional and ordinary routes give the possibility to ferry a passenger and a vehicle. From October 1 is also active the promotional rate developed in collaboration with Federalberghi Ischia and that will allow tourists staying at least two nights in one of the hotel associates, to ferry your car at the cost of 60 euro, round-trip ticket.
An offer that cuts the price of shipping up to 60% for the guests of the hotel in Ischia and that can contribute significantly to support tourism in a time of year traditionally unfavorable.
The ticket for the passenger-tourist will be 19 € round trip on the route of Pozzuoli and Naples. Residents in the six municipalities of the island of Ischia instead will pay 3,40€ per route for both Naples and Pozzuoli, and vice versa.