The white Peaks

Serrara Fontana
The white Peaks
A unique scenery, constantly changing. Its appearance is always changing due to the sculpting effect of centuries of rain and winds. An exceptional place, unknown to majority of the islanders, an enchanted landscape, rich history and traditions. In the municipality of Serrara Fontana, towards the hamlet of Noia, via an old mule track, one can follow a route that is not marked but is rich of signs indicating that for centuries the island was popular not only for its healing waters but also for its fertile soil and for the richness of its fruits. It is not difficult to meet along the way and screw terraces still cultivated in ancient cellars dug into the soft tufa, unfortunately not very resistant to weathering and erosion of time. After the trail, following a path not very easy, you get to the Pizzi Bianchi, an unreal place for the island of Ischia, a game of nature particularly beautiful and pleasing to the eye, a group of lace protruding from the soil of a color perfectly white, white and delicate, with a stone that acts as a hat, shaped by wind and rain and destroyed in the same time. A place that changes all the time, if you are lucky you will see lace, five or six feet high. All around there is an environment no less interesting, a hill, once covered with vineyards, now covered by green Mediterranean grass, signs of shepherds and large flocks of sheep and goats, a grove of oak trees hanging over a cliff more than one hundred meters high, carved by the flowing water of known source Olmitello and most down following the trail and crossing private land, unless you meet along the way closed gates you can reach the Maronti beach.
During this walk downhill, the guide will describe the ruins of an old powder magazine site on the islet of St. Angelo, until you cross the old fishing village and then arrive at fumaroles, where we cook potatoes and eggs in the sand at 100° C.
Cavascura the ancient caves, built by Romans, you can do the spa treatments just as they did nearly two thousand years ago, for good conditions in which they retain. The guide will describe the therapeutic characteristics of Cavascura water, which will be then compared with those who visit Olmitello along the route.
Grafico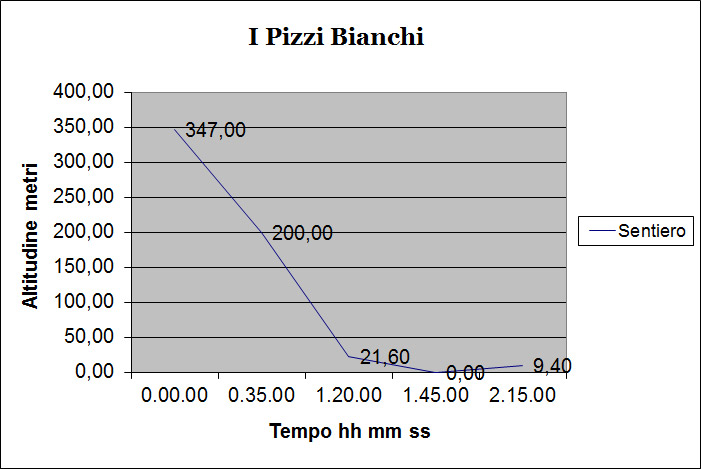 Info
Departure from: hamlet of Noia municipality of Serrara Fontana
Arrival at: Maornti beach at Olmitello if the trail is accessible.
Duration: 5 hours c.a.
Time of walking: 65 minutes.
Difficulty: easy.
Advises: Trekking shoes, water, swimming costume, sunscreen.
Extra: Admission to Cavascura spas.
Bus lines: 11 - 9 - CD - CS
In the neighbourhood