The Tommasone Farm

Lacco Ameno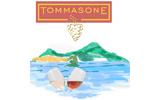 Lacco Ameno - 80076
Via Prov.le Lacco, 98
+39 0813330330 - +39 3285353647

The Pietra di Tommasone Farm
The Pietra di Tommasone Farm was founded in 2000. Mr. Antonio Monti's father, Tommaso, was heir to a family tradition that was handed down from father to son for over a hundred years: the wine-making.
This tradition was interrupted in 1980 with the death of Mr. Tommaso, as Antonio moved to Germany to take up the business as a restaurateur. But the passion and not never dormant in him. Antonio often returns to Italy, not only to Ischia, and spends his vacations in places where the wine is culture, visiting vineyards and wineries on these occasions and learning new things. One day, returning to Ischia, is struck by the idea to start again from its roots, to revive that tradition to which he belonged. Antonio, with the help of friends and recommendations of respected technicians in the industry, this new adventure begins. Under the guidance of the renowned agronomist Pierpaolo Sirch in 2000 are planted the first cuttings of the variety for White Biancolella and Fiano and Aglianico, Montepulciano and Piedirosso for Red wine. It is chosen for cultivation Gouyot low yield, always a guarantee for high quality wines.
That is not enough to make a good wine, you must also have a cellar equipped and modern. Antonio relies on a company from Friuli, the Agrotecnica Isontina, known as Mr. Renato Germini, which is several times to Ischia and cares for every detail of the cellar to optimize production from fermentation to bottling. Currently, the winery has a production capacity of 500 hl. With the 2004 vintage were produced about 280 hectoliters of red and white. 17,000 bottles were bottled Biancolella and White varieties Fiano and 16,000 bottles of red varieties and Aglianico, Montepulciano and Piedirosso.
In our first two wines, was given the name Pithecusa White and Red. Pithecusa was the ancient name by which it was called the island of Ischia by the Greeks, who have brought the culture of the wine in Ischia. The tradition continues.
Buy our products
Where to buy
In the neighbourhood
Facilities

Credit cards

Reachable by car