Terme Colella
Forio d'Ischia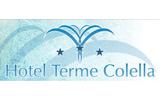 Forio d'Ischia - 80075
Via Monterone, 55
+39 081989279
fax +39 081997035
About Terme Colella
The thermal springs of Ischia are used for therapeutic purposes since VII century BC. An ancient hydrothermal basin is located in the locality of Monterone in Forio, where were built the "TERME COLELLA" in the 3-star hotel.
The source used in TERME COLELLA is part of the thermal basin of Monterone known since ancient times for fumarolic activity with the presence of sulfur and alum gushing from the slopes of Monte Nuovo.
Beauty Treatments
Facial cleansing, ampoules for face cleaning, facial mask, facial massage, pedicure aesthetic and care, manicures, waxing total, partial waxing, cold therapy, lymphatic drainage, breast treatment, cellulite treatment.
Thermal treatments
Thermal bath, mud and thermal shower, topical, mud bath spa, mono iontophoresis, iontophoresis bilateral, ozone, partial massage, body massage, special massage, plantar reflessogeno, lymphatic drainage, individual remedial gymnastics, deep tissue massage, massage for migraine, aerosol therapy, inhalation.
Treatments in agreement with the N.H.S.
Mud therapy, thermal baths, and inhalations.
offerte
Dal 01-04-2015 al 31-10-2015

Disponibilità

Prenota

Booking non disponibile
Nelle Vicinanze
servizi

Aperto a Pasqua

Beauty center

Palestra

Parcheggio

Stabilimento termale convenzionato

Transfer