Stonehouse of Cuotto

Forio d'Ischia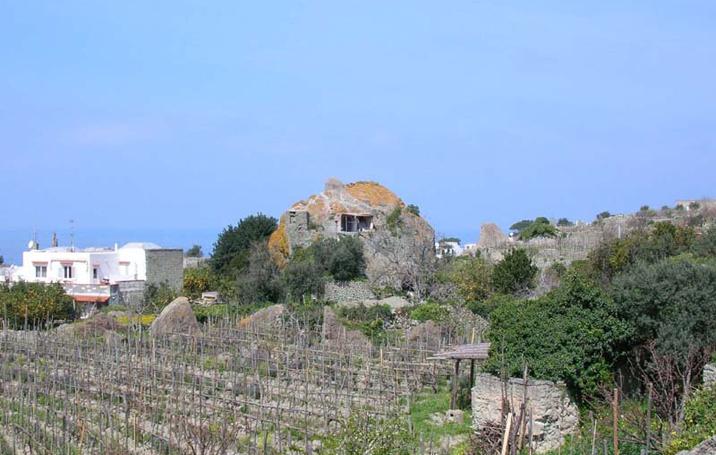 Stone house of Cuotto
The large boulder stands for the color ocher conferred by lichens that cover the surface. Still used as a house, has the typical characteristics of the lodging of Ischia. The ground floor is occupied by a large cellar equipped with air ducts carved into the walls to provide ventilation needed to preserve the wine on the first floor is the living quarters with the services, an external staircase and a mouth ventilation in the form of half dome open, said weather vane; complete the structure of the underground tanks. Windows and openings are covered up so as to camouflage the dwelling and will not alter the external shape of the boulder. The surrounding area shows the actions undertaken by rural populations to adapt to the needs of agricultural land: terracing defined by so-called "parracine" for the cultivation of the vine, other stones adapted to various uses, some used as cisterns through incisions on the surface for collection water, as other millstones, tanks, rabbit hutches. More distant, between rows of vines, stands another large block of pyramidal shape; the steps carved into the rock testify to its original function as a sighting point. Climbing the steep steps, we reached the top of the rock, which dominates the surrounding countryside and the sea, right at the top is a circular hole, probably originally used as a support for objects or for the collection of water. The masses of observation, used by rural populations for the purpose of sighting, supplemented the defensive system of towers located mostly within or near residential areas.
About it
This stone house, like many others around the forian area, born of a work of transformation and adaptation of fallen rocks from Mount Epomeo, made from indigenous peasant communities, looking for new settlements driven by demographic and the need of cultivatable innermost and therefore less vulnerable to pirate raids. The existence of these lytic dwellings shall be attested by notary documents from the early decades of the fifteenth century, but their origin could be even older (see D Will, Ziviello, 1991, p. 130). Around the large stone house of Cuotto had arranged a settlement that occupied a large area and included buildings for agriculture and defense. As evidenced by Will and Ziviello in the second edition of their book on the houses of stone of Ischia (1991), compared to 1982, the year of the first edition of the text, the complex has undergone significant changes Cuotto caused by indiscriminate construction activity that has erased ancient paths, shelters, pools, wine presses and which threatens to destroy "a historic landmark of great importance-urban testified that the complex structure of an agricultural settlement extended to a wide area, for example the presence of numerous boulders derived from appliances and integrated into parracina structure of the terraces".
Info
Period: XV-XVI
State of preservation: good
Protection law: Private
In the neighbourhood