Yachtclubvela.it sailing School

Forio d'Ischia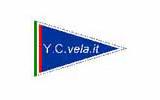 Forio d'Ischia - 80075
Porto di Forio (zona Monticchio)
081 3334720
Yachtclubvela.it Sailing school
The Yacht Club vela.it, directly at the port of Forio, in a lovely area, near Monticchio, for the activity of sailing school, offers courses in sailing for beginners and for students already experts. Aimed at spreading the culture of the Sea, for children aged over six years and adults of all ages, the instructors activity continues during the autumn and winter, allowing even the islanders themselves to this wonderful sport .
The sailing school is committed to accommodating members already registered with other companies and duly registered with fiv for the current year. To all members of the club facilities are available for hire sails and educational activities.
Open from 01-01-2012
to 31-12-2012

Mon
Tue
Wed
Thu
Fri
Sat
Sun
MORNING
AFTERNOON
Facilities

Reachable by car