Dal Pescatore

Sant'Angelo

Close to the sea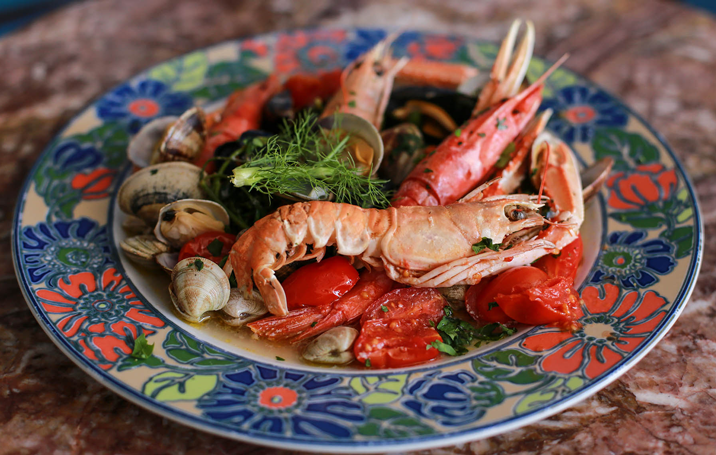 About Us
It's a great pleasure for us to welcome you here on our website and we would be delighted to have the opportunity to welcome you personally at the Dal Pescatore soon.

The Dal Pescatore is situated in the heart of Sant'Angelo d'Ischia, in the charming Piazzetta, directly at the little fishing port.

We are convinced that more than 50 years of tradition are a commitment. This is reflected by the excellent quality of our traditional and characteristically Mediterranean cuisine. For this reason, we set great store on selected ingredients of best quality and freshness and use seasonal ingredients from regional farmers and fishers whenever possible. In addition to excellent ingredients, the success of our kitchen is based on careful preparation and subtle adjustments of taste combinations.

However, not only our culinary team but also our friendly and helpful service staff put their heart and soul into their work. With enthusiasm and commitment, they make sure that guests feel completely at rest.

As a long-standing owner-run family business we value cordial hospitality never losing sight of our top priority: happy and pleased guests who are spending pleasurable time in a relaxed atmosphere and are always happy to return to us.
Friends
As a family-run house, we welcome our long-time regulars and also all new friends of the Dal Pescatore's always with open arms. We have begun to collect pictures – piece by piece – for our little gallery, which we will enlarge from now on step by step.
History
Join us on a time journey through idyllic Sant'Angelo and many decades of the Dal Pescatore:
Where We Are
The beautiful and picturesque village of Sant'Angelo in the south of Ischia has been able to preserve its unspoilt and delightful charm to this date. Totally immersed into an untouched landscape between hills and the sea Sant'Angelo is the only village on the island which is a car-free pedestrian area from March until November. The Dal Pescatore is situated in the middle of the small piazza which is the heart of the village.
Sant'Angelo with its small houses, pretty little alleys as well as its colourful mosaics and sweet-smelling blossoms is located in one of the warmest and brightly sun-drenched regions of Ischia, where the summer lasts from April far into November. The village is located close to famous Maronti Beach – the longest beach of the island. From Sant'Angelo you have a marvellous view onto the sea and you can enjoy fantastically beautiful sunsets and sunrises.
Open from 15-03-2020
to 15-10-2020

Mon
Tue
Wed
Thu
Fri
Sat
Sun
LUNCH
12:30
16:00
DINNER
19:00
24:00
Open from 16-10-2020
to 14-03-2021

Mon
Tue
Wed
Thu
Fri
Sat
Sun
LUNCH
11:00
15:30
DINNER
18:30
21:00

Reservation welcome
special evenings
cuisine
Typical
Meat
Fish
Coeliac
Pizza
In the neighbourhood
Facilities

Open at Christmas

Open at Easter

Navetta

Restaurant