Negombo Thermal Park

Lacco Ameno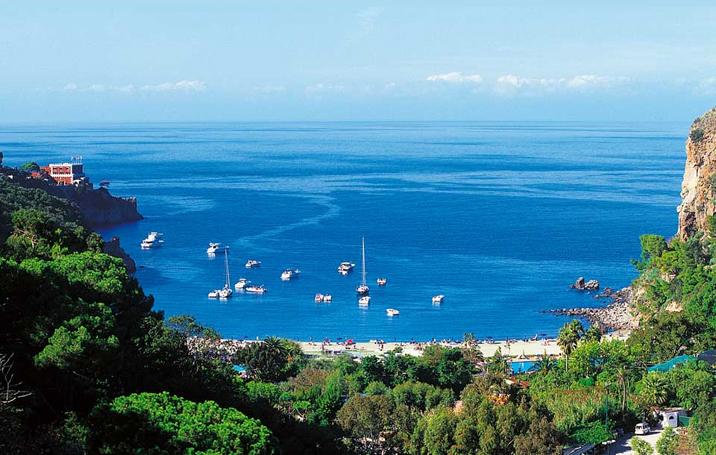 Lacco Ameno - 80076
Baia di S. Montano
+39 081986152 - 081986055
fax +39 081986342
About Negombo
A very fine sand, 14 pools, some marine, thermal and therapeutical where you can swim or relax with hydromassages. A thermal area with Turkish bath, outdoor pool and then modern aestetical-healthy treatments. Panoramic gardens where, depending on seasons, you can admire the colorful flowering, smell Mediterranean perfumes, pick seasonal fruits. Pleasant shopping moments. And the possibility to every guest to enjoy the splendid garden.
In 1946 the duke Luigi Silvestro Camerini arrives in Ischia: humanist and great traveller is in the search of a place where founding a park and show the passion for botany.
He was for long time in Capri and Ponza, as exile. The charm of the place and the similarity with the bay of Negombo, very admired in Celyon, explains the choice of the bay of San Montano.
Under a unique owner (50 sale contracts) began its long transformation from marshland to the luxuriant park.
Negombo represents the best union of wellness and cures for a funny holiday.
Beauty treatments
Panoramic and four hands massage, Hot Stone Therapy, ayurvedico massage, aromatic, Pinda and water one, hyaluronic acid peeling face o TCA, nevoscopia with microscope and epiluminescence, physiotherapy, plant reflexology, shiatsu, lifting treatments, depilatory, full cleansing treatment, peeling, mask and pedicure.
Spa treatments
Heliotherapy, massages, aerosol, inhalations and hydromassages.
Date and opening hours
Period from May 28 to July, price change for Covid-19 emergency:

1 Adult: Full day admission from 08:30 to 19:00 € 65.00
Half day admission from 13:30 to 19:00 € 50.00
Afternoon entrance from 15:30 to 19:00 € 40.00
1 Child *: Full day admission from 08:30 to 19:00 € 25
Half day admission from 13:30 to 19:00 € 20
Afternoon entrance from 15:30 to 19:00 € 15



2 Adults: Full day admission from 08:30 to 19:00 € 80.00
Half day admission from 13:30 to 19:00 € 65.00
Afternoon entrance from 15:30 to 19:00 € 50.00


3 Adults: Full day admission from 08:30 to 19:00 € 105.00
Half day admission from 13:30 to 19:00 € 85.00
Afternoon entrance from 15:30 to 19:00 € 70.00


4 Adults: Full day admission from 08:30 to 19:00 € 130.00
Half day admission from 13:30 to 19:00 € 105.00
Afternoon entrance from 15:30 to 19:00 € 85.00



1 Adults, 1 child *: Full day admission from 08:30 to 19:00 € 75.00
Half day admission from 13:30 to 19:00 € 60.00
Afternoon entrance from 15:30 to 19:00 € 50.00

2 Adults, 1 child *: Full day admission from 08:30 to 19:00 € 100.00
Half day admission from 13:30 to 19:00 € 80.00
Afternoon entrance from 15:30 to 19:00 € 65.00


3 Adults, 1 child *: Full day admission from 08:30 to 19:00 € 130.00
Half day admission from 13:30 to 19:00 € 100.00
Afternoon entrance from 15:30 to 19:00 € 85.00


2 Adults, 2 children *: Full day admission from 08:30 to 19:00 € 125.00
Half day admission from 13:30 to 19:00 € 100.00
Afternoon entrance from 15:30 to 19:00 € 85.00

From opening to closing, possibility of visits:
Visits from 17:30 to 19:00
Adults: € 8
Children: € 5




*from 1,00 mt to 1,40 mt)
offerte
Dal 29-04-2022 al 04-10-2022

Disponibilità

Prenota

Booking non disponibile
Nelle Vicinanze
servizi

Bagni termali

Beauty center

Palestra

Parcheggio

Parco giardino

Piscina coperta

Piscina scoperta

Sauna e/o bagno turco

Spiaggia privata

Transfer