Montecorvo house

Forio d'Ischia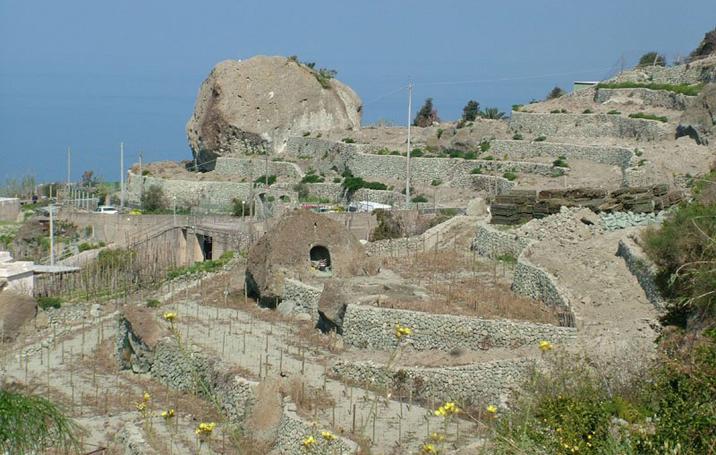 Montecorvo house (Pizzo del Merlo)
The Boulder, located in the highest part of the Montecorvo hill, on the slopes of Mount Epomeo, between terraces and halls, is currently abandoned and hardly reachable due to outages of the paths. Compact appearance, presents a pseudo circular plant with a dome. The coverage of the cellar house is partially collapsed. There is a large opening allowing access inside of the House of refuge, preceded by a sort of terrace. On the right side is a rectangular structure made of Tuff stones. In the area, known as Milone Farm named after the 19th-century, in the past was characterized by the presence of other houses of different types, including remnants of vineyards, it is a pyramid-shaped stone, with an arched central opening, probably used as deposit, with some tanks-tanks in front of. The whole area is dominated by a big boulder that protrudes and stretches out in front of the terraces of walls.
About it
The Montecorvo hill, which occupies the southern slopes of Mount Epomeo on the village of Panza, now abandoned, was renowned for the production of wine. It is testimony in land development in terraces supported by dry stone walls of Green Tuff stones, called "parracine". In this area the boulders fallen from Panorama were machined from Epomeo peasants and destined to different uses; larger ones were given names: Stone Brox, Pizzo del Merlo, Stone Martone. The Boulder is located in the upper part, behind the top of the mountain, was converted into a House of refuge with cellaio below, which was presumably used, given the elevated position, as the point of observation. The area below, arranged in terraces, was occupied by other structures related to agricultural activity, such as hospitalizations, cellars, deposits, tanks today largely destroyed, and is dominated by a giant boulder protruding that write of arbitrariness and Ziviello (1991), probably influenced the choice of settlement. The two researchers (1991, pp. 61-62), citing the study of primitive architecture Guidoni, recognize the architecture of stone houses, in addition to practical and defensive, an anthropological significance and symbolic meaning, related to "Holiness of lytic in peasant culture", therefore the relationship between architecture, human body and environment, to the delicate relationship between man and nature; a nature, among other things especially difficult and hard, because of the frequent volcanic phenomena and earthquakes, which remains visible trace in fumaroles on the slopes of Mount Epomeo: "it is clear that the tension caused by the proximity of the mountain epomeica, overloaded with symbolic and religious references, any impact on the formation and evolution of their background."
Info
Period : XV-XVI
State of preservation: bad
Protection law: Private
In the neighbourhood