Family SPA Hotel le Canne
3 star Hotel
Forio d'Ischia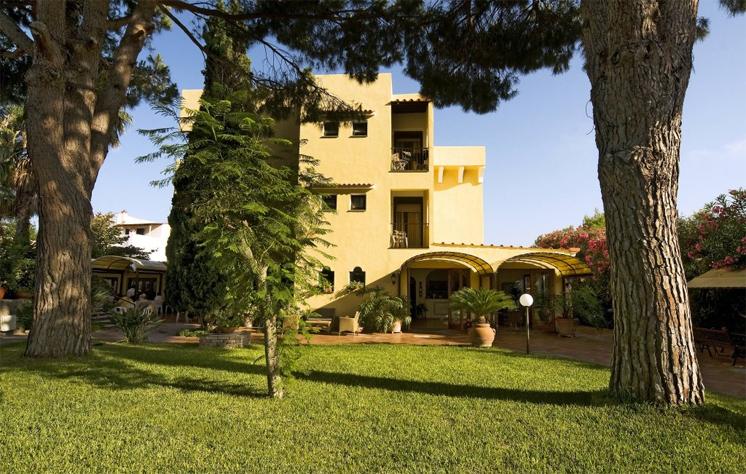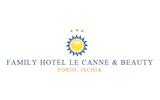 Forio d'Ischia - 80075
SS 270
+39 081987510
fax +39 081987501
A 3 star hotel in the heart of Ischia
A pure wellbeing holiday on the Island of Ischia, in the midst of thermal spas, sun, sea and culinary excellence. In the smiling town of Forio, a few short steps away from the centre and the enchanting San Francesco and della Chiaia beaches, there is a corner of pure relaxation and intimacy which awaits you immersed in the clear light of western Ischia: at Forio, land of culture, beaches, thermal spas and spectacular sunsets, the Hotel le Canne&Beauty is the perfect place for those who want absolutely everything from a holiday.
Rooms
They are bright, furnished with care for detail, and offer a comfortable and relaxing stay.
These rooms have:
Private shower bathroom and hair dryer
TV
Direct line phone
Fan
They can be double, triple or quadruple
Some have a small balcony, others a window
Restaurant
Our 3 star hotel with restaurant in Ischia will offer to guests the best of Neapolitan cuisine.
At Ischian restaurants are a great culinary tradition and modernity combine perfectly the past, to suit every palate.
Our dishes, which are a real treat for the eyes and palate, are prepared with wholesome food, with vegetables and meat in our countryside and fresh fish in our seas.
The rich breakfast buffet to allows our guests to choose what they like and start the day in good shape.
Lunch and dinner instead of offering a service facility: the appetizer and salad buffet and waiter service for first and second courses with a choice from a varied menu, where the freshness of the sea never fail. Those who wish, can request vegetarian or gluten free menu.
Pools
Le Canne & Beauty of Ischia is a hotel with pool able to offer a deep relaxation.
In Ischia hotels with swimming pool and wellness, are synonym of relax, harmony and cure of body.
Surrounded by palm trees overlooking the green Forian mountain at the Hotel Le Canne you'll find a large pool with a stylish sun terrace complete with every comfort for the hours devoted to diving and sunbathing.
In our hotel with pool in Ischia you can enjoy the pleasure of sunbathers lying on our beds by the pool and spend quiet moments while your children play and have fun in our mini club.
Spend your holiday in our hotel with pool, Ischia also gives you the benefits of thermal waters!
In fact, in Ischia hotel with pool also means to indulge in the massage spas, discover the wonders of our mineral water and refresh during days of vacation on the island of Ischia.
Our hotel with pool, in fact, is enriched with a small wellness: thermal indoor pool, hot tub where to indulge in the pleasures and benefits of water massage and Finnish sauna to cleanse body and skin.
If you're looking for a hotel with swimming pool, Ischia is the right place!
Beauty center
If you want to spend wellness vacations, Ischia is a paradise of wellness, with a variety of spas that exploit the known properties of thermal waters.
In Ischia Spa and wellness therapies are, in fact, the main products most popular for couples and families on vacation.
The thermal waters of Lacco Ameno, were used since antiquity to fight all the ills of the body and mind, as they have among other powers also to soothe the worries and return a good psycho-physical balance.
Today it is increasingly looking for natural remedies for good health, thermal medicine is more popular than ever. But only a few places in the world of the spa treatments are truly such, and the island of Ischia is one of these places one of the most famous holiday destinations ever.
Book a holiday in Ischia Terme is waiting for a holiday dedicated to wellness and relaxation.
If you prefer to perform the spa treatments at the hotel, the Hotel Le Canne & Beauty offers the best spa therapies.
The treatments are performed with the thermal waters at our center, Health & Beauty give amazing results, both for diseases of the upper airways, such as sinusitis, bronchitis, sore throat, is for osteo-articular diseases, cervical, back pain and sciatica.
At our Health & Beauty center will also carry out beauty treatments and beauty: including programs for toning, slimming, cellulite massage, and courses aimed at rejuvenation of the tissues and skin of the face, neck and décolleté.
Spend a holiday in our hotel Terme Ischia and many personalized services are waiting for you to spend your holiday in well being.
offers
From 25-03-2016 to 25-10-2016
From 20-12-2016 to 07-01-2017
In the neighbourhood
Hotel facilities

Open at Easter

Elevator

Dryer in room

Thermal baths

Bar

Beauty center

Tv in room

Dogs allowed

Credit cards

Coeliac cuisine

Safebox

Internet

Parking

Private Park and Garden

Indoor swimmingpool

Outdoor swimmingpool

Central heating

Restaurant

Sauna and/or Turkish bath

Solarium

Agreed thermal establishment

Telephone in room

Transfer on request