Hotel Carlo Magno
4 star Hotel
Forio d'Ischia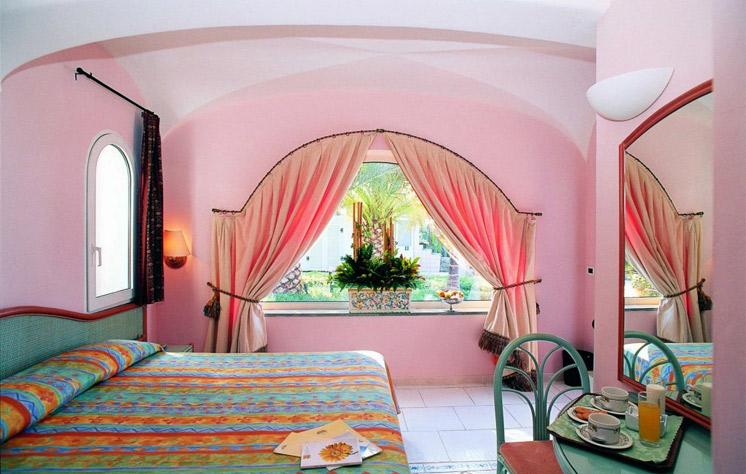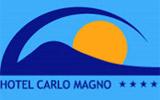 Forio d'Ischia - 80075
Via Baiola, 167
+39 081900098
fax +39 081900114
About Hotel Carlo Magno
The Hotel Carlo Magno, building of which has been completed recently in an original Mediterranean architectural style, manages to bring together the beauty of the sea and of the mountains. Its splendid location, immersed in green halfway along the coast on the "Vecchia Borbonica" road, which links Forio to Lacco Ameno (in the district of Fango) offers its guests a warm atmosphere as if one were at the home of friends. With everything fully described and illustrated, Hotel Carlo Magno will take pleasure in showing it to you, on the first occasion of having you as its guests on Ischia, so as to be able to number you among its "guest friends" for whom its will always reserve a dream holiday.
Rooms
All rooms in the Hotel Carlo Magno are furnished with elegance and with care for detail.
Furniture and fabrics have been chosen in harmony with the charming landscape which surrounds the hotel and the colours are delicate and airy in pastel tints to give completion to your immersion in the sea and sky of the island. In the rooms will you find, moreover, everything that you need for a comfortable and completely relaxing stay.
Pools
What could be more relaxing than bathing in a swimming pool while admiring the panorama?
What could be more inviting than to bask in hot water while a thousand bubbles take care of the beauty of your skin and of your legs, and make you feel like a lord?
One of the Hotel Carlo Magno's three swimming pools is the panoramic thermal mineral pool with hydro-massage. It is thermal mineral because it is supplied with thermal water mixed with mineral water so as to have a milder temperature. In this large pool, you will also find the magical hydro-massage water jets which are really hard to live without!
Restaurant
A dinner of light and extremely fresh courses in the internal restaurant at the Hotel Carlo Magno. In this room with its elegant and expensive furnishings, which is fully air-conditioned, you will find your table reserved and a rich buffet where you can directly choose your starters and the side dishes which will accompany your dinner. And also the first and second courses will be chosen by you, every evening, with a range of four possibilities for each course.
If, on the other hand, you would like to have something completely different, you will be able to taste anything that you choose.
Every week, there is an romantic candlelit evening accompanied by folk guitar music.
Beauty center
In Venus Beauty Center is practiced all beauty treatments and aesthetic healing: the anti-stress massages, cellulite, lymphatic drainage from the foot reflexology, facial treatments from rejuvenating, moisturizing, anti-rosacea, body treatments, from cold therapy, depilation, peeling from the scrub. In our Beauty Center only professionals and experts-date work on all new aesthetics spa.
offers
From 25-03-2016 to 01-11-2016

Availibility

Book

Booking not available
In the neighbourhood
Hotel facilities

Air conditioning in room

Dryer in room

Baby sitting

Bar

Beauty center

Tv in room

Dogs allowed

Credit cards

Safebox

Internet

Gym

Parking

Private Park and Garden

Piano bar

Indoor swimmingpool

Outdoor swimmingpool

Central heating

Restaurant

Meeting service

Sauna and/or Turkish bath

Solarium

Agreed thermal establishment

Telephone in room

Transfer on request