Hotel al Bosco
3 star Hotel
Forio d'Ischia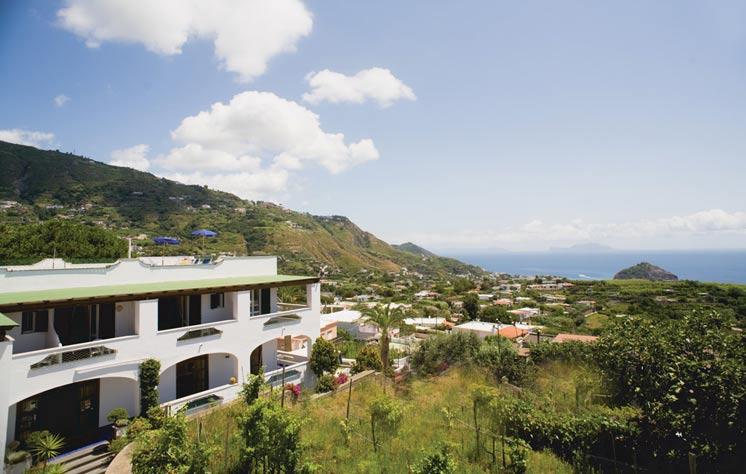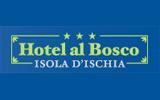 Forio d'Ischia - 80075
Via San Gennaro, 45
+39 081909132
fax +39 081907561
About Hotel al Bosco
Located at Panza, on the southwest coast of the island of Ischia, the hotel has a 70's style. The hotel is surrounded by greenery, between vineyards and the famous wood of Alphonso of Aragon stretching in a verdant vally of oaks and of holm-oaks (quercus-ilex), an oasis perfect for an Ischia vacation full of rest and relaxation. The accommodation in Ischia at the Hotel Al Bosco offers reception, bar, lounge with satellite TV, a terrace with splendid views of S. Angelo, parking. The cuisine is typically Mediterranean with genuine meals. Abundant and delicious breakfast buffet, the ideal solution for those booking a stay in Ischia bed and breakfast. The dining room has air conditioning.
At short distance on foot or by car, lies the charming bay of Sorgeto, known for the presence of the spring of thermal water and for the beautiful cliffs. The hotel is only 2.5 km far from the beautiful beaches of Citara and S. Angelo.
The Hotel Al Bosco offers a wide range of accommodation for Ischia vacation, with conditions particularly attractive: a stay half board or bed and breakfast in Ischia is itself an interesting solution better taki advantage of pool, spa and wellness treatments such as those offered by our hotel.
Rooms
The guest rooms are all endowed with private bathroom with hair-dryer, shower direct dealling telephone and heating. Dependances and detached-flas thats few minutes away from the hotel.
Restaurant
Close to the swimminpool there is a characteristic restaurant with panoramic terrace, immerse in a mediterranean wood. A variety of delicious typical mediterranean meals.
Pool
Few minutes away from the hotel, surrounded by mediterranean scrub there is the swimmingpool. The thermal water swimmingpool at 32°C supplied with water gushing from the spring at about 70°C is furnished with 2 jets for the under-water massages. It's composed by : solarium with deck-chair, bar and nudism-terrace.
Spa
A vacation in a wellness hotel in Ischia is the ideal solution to regenerate the body and mind. The island of Ischia is famous for its thermal springs, a place where it is possible to find energy and serenity. The spa, known since antiquity, has excellent therapeutic properties. That's why our hotel with spa and beauty farm in Ischia is the ideal place to enjoy a rejuvenating wellness: spa treatments for joints and respiratory diseases but also effective treatments for the skin, always under the watchful eyes of a highly qualified staff.
By booking a stay in our hotel with beauty farm in Ischia, you will have at your disposal a wide range of treatments and therapies.
offers
From 28-05-2021
Availibility

Book

Booking not available
In the neighbourhood
Hotel facilities

Open at Easter

Baby sitting

Thermal baths

Bar

Tv in room

Credit cards

Safebox

Mini-bar in room

Internet

Parking

Private Park and Garden

Outdoor swimmingpool

Central heating

Restaurant

Solarium

Telephone in room

Transfer on request