Parco Smeraldo Terme
Barano d'Ischia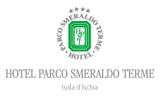 Barano d'Ischia - 80070
Spiaggia dei Maronti
+39 081990127
fax +39 081905022
About Terme Parco Smeraldo
Our waters that drawn from the aquifer underlying at a temperature of about 80° C. They are the main basis for the preparation of the sludge, therapeutic baths and inhalation treatments. The use of water in the spa is old medicine that has never known decline and now represents a valid treatment, because supported by the results of investigations and clinical research.
Beauty Treatments
Total aromatherapy massage, spa mud masks, customized facial, body scrub.
Thermal treatments
Mud therapy, hydrotherapy, spa massages, and inhalation treatments.
offerte
Dal 28-03-2015 al 25-10-2015

Disponibilità

Prenota

Booking non disponibile
Nelle Vicinanze
servizi

Aperto a Pasqua

Beauty center

Palestra

Parcheggio

Sauna e/o bagno turco

Transfer