Bar Ristorante La Grotta monte Epomeo

Serrara Fontana

Hill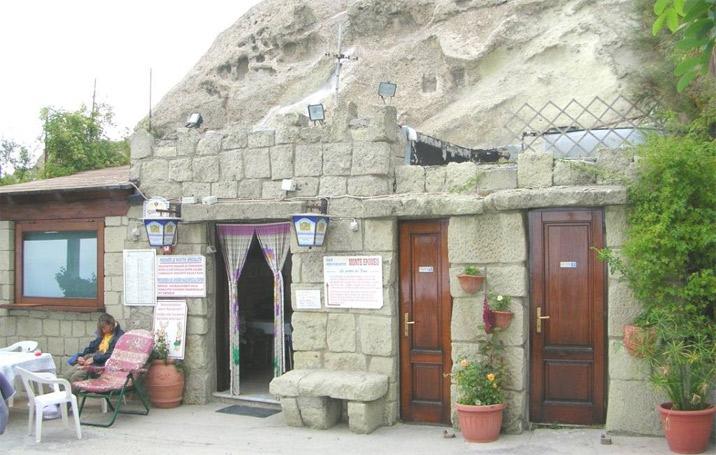 About Ristorante la Grotta
On the highest peak on the island of Ischia, Mount Epomeo, with a view that goes from Capri to the Pontine islands, dug into the rock there is the restaurant "La Grotta di Fiore and Maria." At the restaurant "Grotta" you can taste the local specialties, including the rabbit stewed in a tomato, wine and herb sauce, accompanied by delicious side dishes and local wine. The restaurant is open for lunch and evening by appointment, not to lose at least once a view of sunrise and sunset.
Some dishes you can taste at Grotta
In this place of extraordinary wild beauty you can eat the typical dishes of the island of Ischia, ranging from bruschetta, ham, pork, goat cheese, bacon, fried potatoes harvested from their fields, the delicious rabbit hole and delicious salads of vegetables in the land of Ischia to finish with a good local wine, all prepared and served by the Trofa sisters.
Ristorante la Grotta location
The restaurant is located on the summit of Mount Epomeo, the highest peak of the island of Ischia, which reaches 789 meters above sea level. The restaurant was originally a tuff block and this was called "Grotta". The restaurant is accessible only by foot through a mountain path, if you are driving you have to leave the parking at the end of the driveway, follow directions to the summit of Mount Epomeo, then across a trail for half a mile, about 15 minutes walk you reach the summit of Mount Epomeo and the restaurant. If you have not car, the bus will accompany you at the center of the village of Fontana, through an alley from which you can follow the signs to Mount Epomeo, 2 km away about 35 minutes on foot. Other trails lead to the summit of Mount Epomeo and the restaurant, a stone from the water and the other by falanga, but are suitable for hikers and mountaineers.
Menu a là carte: 16€ / 35€
Open from 01-07-2012
to 31-08-2012

Mon
Tue
Wed
Thu
Fri
Sat
Sun
LUNCH
12:00
15:00
DINNER
19:30
23:00
Open from 01-09-2012
to 30-06-2013

Mon
Tue
Wed
Thu
Fri
Sat
Sun
LUNCH
12:00
15:00
DINNER

Closed from 01-12-2012 to 31-01-2013

Reservation welcome
special evenings
cuisine
Typical
Meat
Fish
Coeliac
Pizza
In the neighbourhood
Facilities

Open at Easter

Bar

Private Park and Garden