Autonoleggio Rent a car Mazzella

Città d'Ischia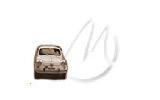 Città d'Ischia - 80077
Via Ferrante D'Avalos, 8
081 991141
fax 081 985044
Autonoleggio Rent a car Mazzella
Since 1965 the car hire Mazzella is synonymous with quality, punctuality, reliability and respect for its clients.
We take care of the cars in our car park as if it were our own self, the one we use every day. But Mazzella is not just about cars, we also offer bike, scooter 50 and 125.
The Car hire Mazzella, always, deliver the vehicle chosen where you want: in the hotel, at home, or landing of ferries and hydrofoils. You just need to inform us when booking. Good tour...
Open from 01-01-2012
to 31-12-2012

Mon
Tue
Wed
Thu
Fri
Sat
Sun
MORNING
AFTERNOON
Facilities

Open all year

Credit cards

Reachable by car