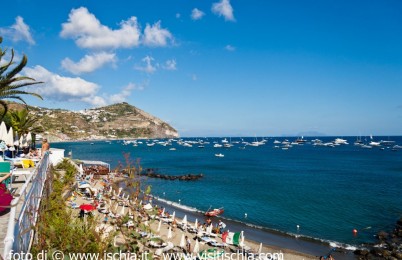 Go down to the Maronti is like descend from the top of the Grand Canyon on the banks of Colorado, in the Navajo Reservation: «Augh, here everything exists and everything you can imagine…». Just like here, on the beach that goes from 'Punta della Signora' to the fumaroles. Here, every grain of sand is a true story, a myth and a dream together, for thousands years, and those who dare to doubt it is only a dirty infidel to garrotte instantly.
I always attend it; a must is to see my incessant wanderings, from Papua to the Pantanal, from Tibet to Antarctica.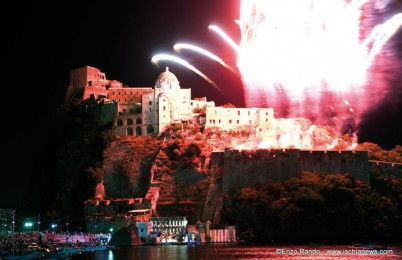 Ischia, with its 8.14 km square, whose name derives from "Insula Maior" then changed into "Iscla", is the capital city of the island. It is divided into two parts, "Ischia Porto" that it is one of the main settlements and "Ischia Ponte" called in this way because of the stone bridge - in wood, until the '700 - which connects the village with the Aragonese Castle. With its 19,000 inhabitants, it has a population that has made of solidarity and the spirit of sharing the strong pillars on which it bases the history and tradition.

A small park, a kingdom of harmony and peace, a place of unparalleled beauty is hidden in a secret place on the island of Ischia. Hard to find, almost as if it would be undisclosed. However, we did it, and in front of our eyes revealed in its entire splendor. O' Vagnitiello, Hydrotherapy Park located in Casamicciola, offers beneficial spring waters, whose origins are lost in the mists of time.
'Beauty Antonio' with its Mediterranean charm is the star of the Hollywood gala opening event of summer. Yes, he, Antonio Banderas is the star of the opening, on July 12, the thirteenth edition of the Ischia Global Film & Music Fest produced by Pascal Vicedomini: Spanish actor and producer was awarded the Ischia Legend Award. It is a choice that gives an additional character in the international jet set to highlight of Ischia, already rich with glamor.

The "levanter" is not just a wind: the sailors and anglers know the morning and Eastern breeze very well. Soft and warm, this breath warmed only by the first sun of the day helps to create a special microclimate, ideal for a swim in the clear sea. It is like the bath of awakening, an immersion in nature: it is invigorating and refreshing.