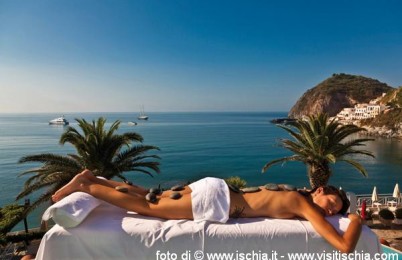 The beauty of the places, the powers of the spa and health treatments, in high summer, reach their ideal in the Thermal Park Aphrodite-Apollon, on the southern coast of the island. A large garden featuring 12 pools of thermal water that comes from one of the most important and healthy basins, that one of the area-Sant' Angelo in Maronti.
The island was scorched by the heat of August. Especially near post sundials between 13 and 16. Trying refreshment - the heat raged - I decided to dive into the water. I alternated, although it seemed inappropriate, a swim in the sea and a sauna, then give me a break in the pool.

There is no magic in what is related to the spaces of Villa Arbusto if magic is not a visceral affection and emotional memory, the sense of belonging and the desire to return. I met it in decent abandonment of dust that hid the tiles of its bright tiled or wore out those scattered in the park; I lived in the years of my studies among the shelves of the store at which the precious relics of Pithekoussai were sorted and stored, when it was taken for upcoming sorting of the museum; I visited it admired, returned to culture with commendable effort, acropolis of a story found, opposite the oldest acropolis in Greece of the West. And I went back several times. Many people tell me, though, the Archaeological Museum of Pithekoussai does not work.

I do not have family brothers, but Michele, the "Bracconiere", is my brother. He taught me - after the immature death of his real and unforgettable elder brother Salvatore, a pilot of family and activity, as well so he's younger than me - to look away, to look ahead, to look, if not the sky, at least in front.

Among the many treasures that Ischia keeps, there are some craftsmen who create their works with respect and passion and that is nice to go to find out.