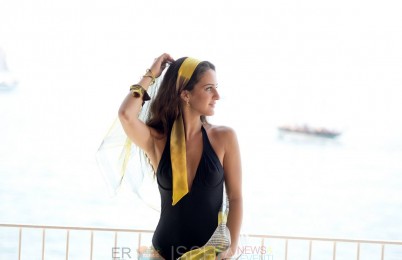 Listening to Bettina Buttgen, a multifaceted artist of German origins is an unmissable opportunity. Her creations are indispensable. It is a world made of workmanship and textures, frequencies and vibrations that have a material tonality and point to the world of men the source of energy by which it is possible to break the silence of silence and the dullness that surrounds it.
It is in balance with everyday life, with its frenetic rhythms and widespread schizophrenia, of stress and normality passed off as art and feeling at home. It is enough to cross the threshold of her atelier-lab, which uses to create with own her hands limited-production of items, in front of the promenade leading to Cava dell'Isola Beach, in Forio on the highway, to reach a lost place in some dimension.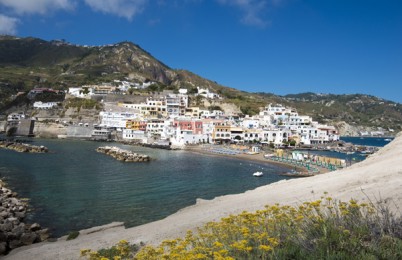 "Every morning when I look at Sant'Angelo I always get the same joyful emotion: this place really exists I did not dream it. Tomorrow will be ten days I'm here and I have the feeling they will have a decisive importance for my whole future life". These are the words of Eduard Bargher, who along with Werner Gilles, two of the "degenerate artists" banned from Nazism, in his long travelling to the south of Europe in search of a place to live and that light of the Mediterranean Sea that only In Ischia he said he had found, wrote about Sant'Angelo.
A small hamlet that over the course of time enchanted and continues to enchant those who are fortunate to visit it, even for a very short time. In this beautiful village, hamlet of the Municipality of Serrara Fontana, on all stands out an islet also called "Torre di S.Angelo".

The Sant'Anna celabration dates back to a tradition of the last century. On July 26, each year, pregnant women went in procession to worship the Mother of Madonna who was in a chapel in Cartaromana Bay. They were accompanied by a procession of anglers' boats, which for the occasion adorned the hull with bushes and flower garlands.

Set in the ancient village of Celsa, the Aragonese Castle. Ancient stronghold dating from the time of Geron, in 476 BC. What that seems to be a fascinating two-dimensional postcard from a distance hides a small world full of art and lively life. The narrow tunnels, the stairs climbing over the towers, the ancient walls, still today are able to evoke the charm and the magic of this ancient noble residence.

Every corner of Ischia is lovely, but some places are endowed with a charm, definitely, out of the ordinary. In Forio, for example, in the place of magic sunsets set Giardini Ravino, a botanical park with a thousand of exotic shades. Spread over six thousand square meters of soil, the over 400 species of succulent plants from all over the world adorn this beautiful garden of shapes and dimensions so spectacular to seem almost unreal.

Two stories that cross, that one of Max and Nino, driven by the same desire to catch their time, their spaces, and their desire to decide their own lives. On the wave of a synchronous inner change, they decide to say good-bye to their old life, made of noise, chaos, and horns that sound like crazy and devote themselves to nature; a therapeutic way to dedicate themselves to autonomy, independence, freedom, without deadlines and without bosses.
Massimo de Michele is a desiner in Naples who works in the furniture sector, a job that is not satisfied with satisfaction, but with relentless rhythms, rhythms that no longer satisfy his needs; he wants to be quiet and to give his time a different cadence. The choice that will change his life is the result of an inner metamorphosis that will take him to Corbaro, a handkerchief in the Forio municipality. At only one hour and twenty by ferry there is Gaetano Cotugno who lives in his kingdom: the kitchen. He loves his work but does not feel it his own; the kitchen seems to him a box from which he sees his time, days, seasons, as in a sort of hellish automation. It is like watching TV where the scene is always the same. Max and Nino want to twist their lives and the fate put them on the same path. The first time they go to the place that will become Corbaro Park, they seem to be in the presence of an old, knackered and crumbling woman...

At the beginning of the last century, Prussian naturalist Anton Dohrn, founder of the Zoological Station in Naples in 1872, regular visitor of the island of Ischia, decided to build a house on the hill of San Pietro. The construction work took place between 1905 and 1906. In addition to family vacation home, the Villa dell'acquario (so it was known locally) was acted as a hostel for guest and scientists friends.