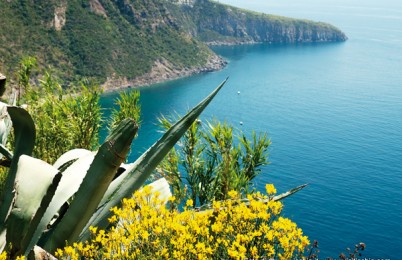 It's Spring!
Ancient atmospheres, awake life,
fragments of memories ranging.
They feed the feelings of our consciousness.
Time waits.
There is a meadow beyond the hill
that the time has not changed.
Colors and scents penetrate in our memory.
It is spring
Clementina Petroni
It seems the final touch of a bitter and spiteful screenplay. Dedicating the work of maturity, "La Desolata", to the land of origin, that so loved and made him suffer. "Gerusalemme ingrata, la colpa sua detesta, quando, dolente e mesta, ti vide ritornare". The indifference of the city to the pain of a mother to whom had crucified the Son, is perhaps the projection distance with which the musician forian Giacinto Lavitrano had to face throughout their lives. The music will remain as the only dialogue with the soul.

Nitrodi spring is located in Buonopane, part of the municipality of Barano d' Ischia, in one of the most fascinating and least contaminated corner of Ischia which is still similar to that one frequented by the Romans two thousand years ago.
Numerous votive reliefs discovered near the source in 1757 and now preserved in the National Archaeological Museum of Naples attest that the sources were visited for therapeutic purposes since at least the first century BC.

Finally online the new site www.inarime.it for the sale of all products by Ischia News!
Occasion, unique and definitive to grab both individual issues that entire past collections of the Magazine "Ischia News & Eventi" , the guide of Ischia.it and Wine Ways and flavors of Ischia and again, a selection of photographic prints (posters) that portray the island of Ischia in scenarios of enchanting beauty.