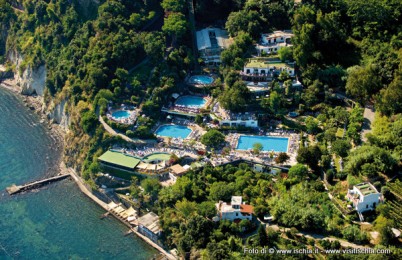 An oasis of peace and tranquility nestled in a lush and luxuriant nature that slowly goes to kiss the blue of the sea: the Castiglione Thermal Park in Casamicciola has made these two colors that characterize it, a motto and a source of pride (The bluest green you've ever seen!), making it a unique piece in the mosaic of colorful beauty of Ischia.
The story of this extraordinary thermal park where you can "enjoy" all the wealth, has very far origins.
Discovering the historic centre of Forio and Panza: the churches, the monuments, the towers, the Saracen Alleys
Artistic Itineraries
Route I – Forio
A walking through the "Saracens Alleys" to discover the "Città Turrita"
Starting from the Fountain of the main street of Forio
- Via del Torrione: the Torrione Tower
- Via Sant'Antonio Abate - via Costantino: the Costantina Tower
- Via Casa Di Maio: the tuff portals and the shrines

The slogan is suggestive: "There is a new Aenaria - all the colors of the theater". The program aims: 9 plays and an awards ceremony with the commitment of seven Italian amateur companies, selected by a special committee of experts on 33 requests for participation from all over Italy, that will perform in the beautiful hall with 280 seats in armchair of the Multipurpose Cultural Center of Ischia in the Via delle Ginestre from Saturday, October 11 to Sunday, November 30. A billboard of all respect that lasts two months.

The fresh and crisp air, the smell of the wort that spreads and that refers to the past, when, before becoming tourist island, Ischia's economy was mainly tied to the cultivation of the vine and wine production and going up the colors of the woods, make us realize that we have entered in the fall season and we are preparing to welcome it.