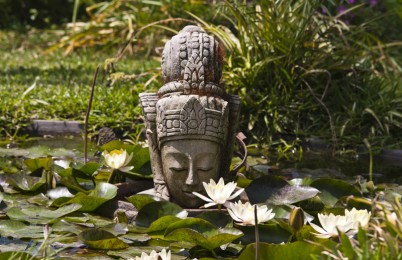 It is when you think that nature is preparing for hibernation that explodes lush proving that its spirit is not deadly, but a continuous perpetuation.
That nature is awakening to the morning dew, is caressed by the shy sun, with sunsets that mark a new day, new blooms that bloom and wither as many that after wearing their best "dress".
"Keramos" is a word dear to the Greeks as to the islanders. It is inextricably tied to the history, art and beauty of this land, as evidenced by the findings of terracotta and the most famous that is the Nestor's Cup found in the necropolis of San Montano in Lacco Ameno.

An oasis of peace and tranquility nestled in a lush and luxuriant nature that slowly goes to kiss the blue of the sea: the Castiglione Thermal Park in Casamicciola has made these two colors that characterize it, a motto and a source of pride (The bluest green you've ever seen!), making it a unique piece in the mosaic of colorful beauty of Ischia.
The story of this extraordinary thermal park where you can "enjoy" all the wealth, has very far origins.

Discovering the historic centre of Forio and Panza: the churches, the monuments, the towers, the Saracen Alleys
Artistic Itineraries
Route I – Forio
A walking through the "Saracens Alleys" to discover the "Città Turrita"
Starting from the Fountain of the main street of Forio
- Via del Torrione: the Torrione Tower
- Via Sant'Antonio Abate - via Costantino: the Costantina Tower
- Via Casa Di Maio: the tuff portals and the shrines