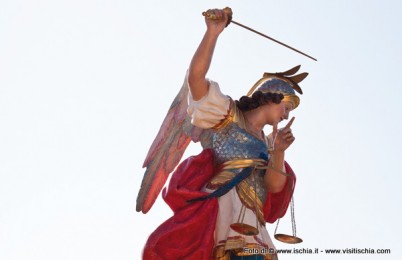 Sant' Angelo, a small fishing village in the south of the island renews every year at the end of September the homage to the patron saint, St. Michael the Archangel.
Don Vincenzo Fiorentino, son of the nearby village of Panza, is over 50 years pastor of St. Angelo, at the helm of one of the smaller parishes of the island, active such as since 1905 after years of "dependency" from the Parish of St. Maria del Carmine in Serrara.
Succhivo, hamlet of Serrara Fontana, is a town of about 300 inhabitants located 500 meters from the most famous village of Sant' Angelo, in the south of the island of Ischia.
It lies at the center of one of the most famous and beautiful coastal landscapes of Italy, between the green slopes of vines and the acrid smell of orange groves. Succhivo develops in all streets that flank secular gardens, wineries and farmhouses, immersed in silence because not reached by the noise of cars.

The smell of vinegar comes to my nostrils just crossed the threshold of her laboratory. The wall is filled with bowls and colors. Five are fundamental ones, but the nuances created are endless. The needle and the thread are ready to finish the edges. In the pot rest just silk fibers dyed. Red and blue: vitality and calm in comparison. It's almost a science. A little of this, a little of that, the difference being that there are no rules and the arrival point is always an ongoing quess.
The islands are always like ships at anchor. Set foot on an island is like getting on a boarding bridge: it is taken from the same magical sense of suspension, it seems that nothing bad can happen to you; and while the "Princess" was slowing down in the tiny cove of Porto di Ischia, the sight of pale colors which is flaked on the houses of the port, seemed familiar and beneficial as the beating of his own heart.

When in the 1960s he started collecting plants from around the world, Captain D' Ambra would never have imagined being able to get to introduce today a unique collection in Europe. But the passions always pays off. "Open a botanical garden was my dream come true". Putting together many plant species, found all over the world, in one place and allow, researchers and enthusiasts to be able to appreciate the features without having to go to one side of the Earth.