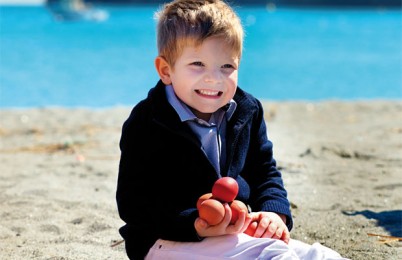 Children and youngsters, at the first warmth of "summer", removed shoes and caluosci (wood and leather clogs), and the most fortunate, shoes, walking barefoot on the lava stone slabs already warm. In the short shorts pockets, there were two things, essentialat that time...One was the ubiquitous strummolo (the Spin with string) and the other was the tiramolla (the sling).The latter served to undermine the lizards and, with very little success, small migratory birds skipping plant to plant. Before Palm Sunday instead, in all homes, grandmothers and mothers prepared the eggs dyed red, boiling them with natural dyes, roots or other.The "red eggs" were instant prey to us children and teenagers, boys and girls.Happy, with our egg in hand, we played, for hours, in spaces that smelled of spring and freedom.We played tozza tozza.«When Buonocore ladies put us in a circle to teach the gospel now, the catechism or more dull (only for girls) "good manners" behavior, there was always joker who intervened», recalls my friend Odette Del Dotto.«Signuri, to me, told me Barbone, that the fact of the red eggs, is not a thing of Jesus, but belongs to the pagan history.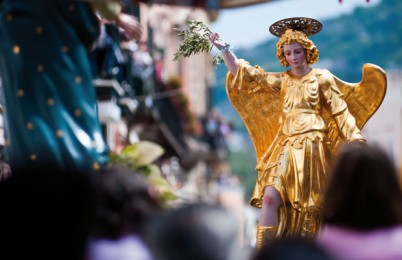 Easter was also a little known deities belonging to the worship of the ancient Saxons. Scandinavian goddess of spring was the symbol of the resurrection of all nature and was worshiped at the beginning of this season. Just the Norwegians, the "pagans", at that time, had as a habit, among other things, the exchange of colored eggs called "Ostara eggs" that now have become the "Easter eggs". It is likely that from this devotion derives the word in English.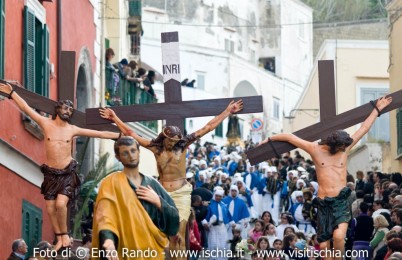 Holy week is rich in emotional moments to evoke the human passion of Jesus. The rites accompany the catholic liturgy and contribute to pass on and affirm even more the Christianity. Songs, performances, scenic representations that help the visitor to know the island tradition.

In Forio, the largest of the six municipalities of the island of Ischia, along the main street of the village, in the late morning of Easter Day, occurrs the passion play called the "Angel Run", organized by the ancient Confraternity of Santa Maria Visitapoveri with office in the homonym church in Piazza Municipio.

Is not linked to the Christ' resurrection but is symbol of a moment of peace and the end of hostility among people of Barano and Buonopane. In the 16th century, a fisherman from Barano is said to have given her girlfriend a coral necklace, but the same necklace was founded in the hands of a young guy from Buonopane.