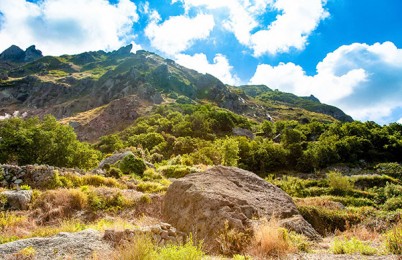 The event program between sea and volcanoes, nature, archeology and geology in Ischia.
A week to discover the beauty of the island, unusual routes to get to know the soul of the Green Ischia: this is "Walking along Paths", the manifestation of slow and sustainable tourism in its third edition, scheduled from May 18 to 24.
A calendar of events for lovers of trekking promoted by 8 associations, Pro Loco Panza, Cai Ischia Island, Wine routes and typical products, Nemo Association, Association of Friends of Piazza Maio, Epomeo in the saddle, Association PIDA - International Award Ischia Architecture and Federalberghi. Ischia offering a true full immersion along woodland paths, through pine forests, hills, mountains and breathtaking scenery overlooking the sea. Routes that will bring participants - followed by guides CAI - to capture the true spirit of the island, its heterogeneous cores, the boundless wealth of a land rich and fertile, where nature thrives, giving rare species of plants, flowers, vegetation..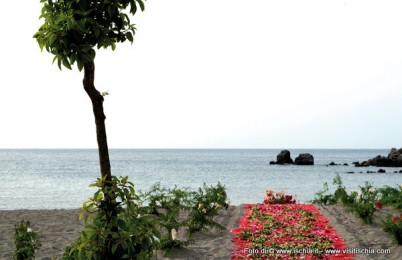 Back in May and with it come back on our beautiful island intense scents and magical evenings to live together. Back above all the magic and charm of the Feast of Santa Restituta, Patroness of the Diocese of Lacco Ameno of Ischia and it will be like every year where many people will crowd the town of Lacco in these days in honor of the Saint by every part of the island.

Presented in the amazing setting of the Hotel Miramare e Castello of Ischia, the second edition of the cycling race "Ischia 100km" GranFondo of the island of Ischia.
Sitting at the table of speakers are Mr. Mario Santaroni, patron of the event, Paolino Buono, Mayor of Barano d'Ischia, Mrs. Annunziata Piro, adviser to the town of Ischia and Salvatore Lauro, president of Alilauro Spa. Commissioner of AACST Mimmo Barra and journalists Porreca and Gianni Mura have also contributed.



Father Francesco Felice Mattera (for all known as Don Franco) is pastor of St. John the Baptist in Buonopane since October 4, 1977, 37 years to the service of his community which in the month of June is celebrating its patron.
We entertain a chat with him on the eve of the Feast 2014 to rediscover what has been the history of the Parish of Buonopane and the cult of Saint John the Baptist.

The Feast of St. Vito, the patron saint of Forio as a beautiful pearl in a month, June, speaking of sun, heat and intense colors given to us by nature.
Bishop Giuseppe Regine is pastor of St. Vito for 45 years (the seal signed by Bishop Dino Tommassini is dated October 10, 1969 while the taking of canonical possession took place on October 26th of the same year), and there he spend all day, intent on praying, reading Catholic newspapers, listening to his people, in the administration of the Sacrament of Confession, caring the temple dedicated to the Patron Saint.