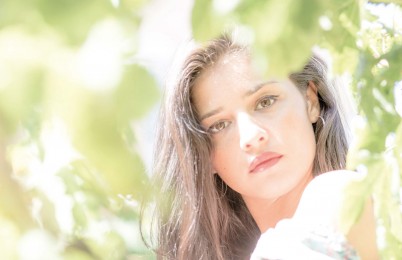 We chose to extricate a peasant identity island, handed down at the turn of generations.
As a very nice jaunty fox waiting to bite ripe grapes, Miriam Cianciarelli, photographed by Tommaso Monti, is the amused protagonist involved in this mini-reportage at the harvest time (which still continues in some parts of the island) between vineyards cultivated by her grandfather Vincenzo Regine, in Forio. Miriam explains, in details, her love for the land which, starting from far away, through the ancient experience, manages to engage hearts and minds of young people to renew the vitality of a miracle.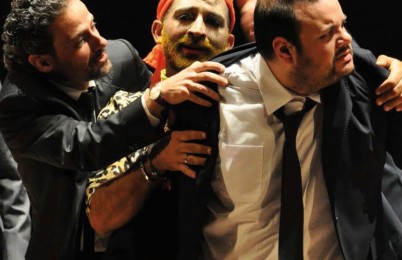 The third edition of "Premio Aenaria" started on October 1st and ends on December 4th. In a short time it has become one of the most important theater festivals in Campania: from thirty requests of participation in the first year, today it counts more than seventy. This happens because Ischia, with its theater, is increasing its attractiveness. I met Corrado Visone, writer, director and actor who created it along with Enzo Boffelli, who first fought for having a theater on the island and is now the president of the association «Amici del Teatro», which "guides the whole structure", confirms Enzo who wants to be able to replace the parterre and make the room complete. Corrado "likes to build emotions".
I come from Forio, but it has been a couple of years that I'm living in a village in the province of Venice to work as office responsible for the national Post Office.
I have a wonderful family, my parents Adriana and Salvatore, and my sister Valeria: my first fans! What type of fans?: for nearly 10 years I have been cultivating my passion for combat sports; and now, specifically, I follow my only love, boxing. It all started when I was 17 and I set foot in a gym where they practiced Kickboxing, specialty in which you pull both fists and kicks. After about a year since my first training session I made my debut between the ropes at the Italian championships in Rimini: first match and first defeat to Ko.

Taken entirely from the tenth chapter of Sotiro, this story is the first work of Nicholas Pascale as an author; schoolmate and fine intellectual, former university lecturer in Milan before returning to this green island where he has since worked for several years: it is a delightful book, dedicated to the memory of Salvatore his recently passed on father, full of memorable pages, strong, original and precious. As is this nostalgic memory, going back to 26th July, more than half a century ago: re-reading it now, for one who the festival of Sant'Anna and the summer 2016 are already fond memories, creates a poignant effect which I would like to share with readers. My sincere thanks to Nicola for having allowed this publication. (Ci.cen.)
A volume of two volumes tells, between memories and hundreds of images, about the strong ties with the island and its people: it is a very valuable contribution to the latest local history in the sign of a great passion.

The summer mist had a different density but it was beginning to clear. Nicola held fast the tiller and stared at his son who, rocked by the sound of the engine of the small fishing boat, between sea sprays and light breezes, had fallen asleep in the prow near the nets just ten minutes after weighing anchor.
It was not the first time that Salvatore had left the coast with his father but never so early. Nicola had promised him, after his continual insistence every evening before bedtime, that at day light he would be taken to the deep submerged valley known as the Canyon of Cuma between Ischia and Ventotene to observe the sperm whales.