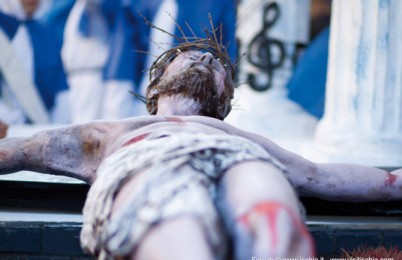 The Dead Christ parading in the procession of Good Friday is the very soul of Procida, the quintessential of the man's personal and intimate pain. These abandoned and bleeding limbs are venerated by many people. There is no superstition, just a great faith that drives anyone to the Church of St. Thomas Aquinas (via Marcello Scotti ), where the headquarters of the Congregation of Turchini and is exposed throughout the year, to feel the need instinctive to accept his hand, especially now that the reliquary of plexiglas that protects it, is to be replaced.
Easter in Forio is a collection of faith, culture, history and tradition blend to create atmospheres and inimitable emotions.
Back in 1982, a group of young volunteers of the association Actus Tragicus every year on Fridays before Easter of Resurrection, starting at approximately at 20.00, puts up the Passion of Christ. Original sacred drama over a trail of about 1 km, dedicated to the last 12 hours of Jesus life.

Is not linked to the Christ' resurrection but is symbol of a moment of peace and the end of hostility among people of Barano and Buonopane. In the 16th century, a fisherman from Barano is said to have given her girlfriend a coral necklace, but the same necklace was founded in the hands of a young guy from Buonopane.

Holy week is rich in emotional moments to evoke the human passion of Jesus. The rites accompany the catholic liturgy and contribute to pass on and affirm even more the Christianity. Songs, performances, scenic representations that help the visitor to know the island tradition.

The most important event of the Christianity, Easter, represents a time of sorrow that becomes time of joy afterwards. An important moment of cathartic re-birth through the sufferings of the God's Son, in which the man's sufferings live again. Christ dies and resurrects. And with Him, the Nature. Easter, in fact, has not the same date every year – the first Sunday after the first full moon and the vernal equinox – because it's the same date of the beginning of the fine weather and boasts ancient venerations linked to the passage of Winter and to the 'sunrise'.