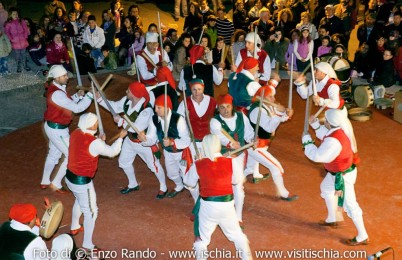 Is not linked to the Christ' resurrection but is symbol of a moment of peace and the end of hostility among people of Barano and Buonopane. In the 16th century, a fisherman from Barano is said to have given her girlfriend a coral necklace, but the same necklace was founded in the hands of a young guy from Buonopane.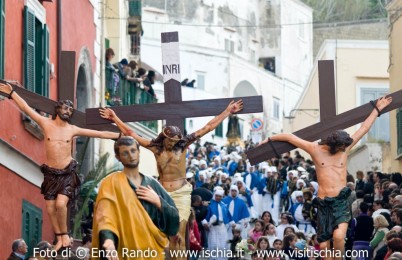 Holy week is rich in emotional moments to evoke the human passion of Jesus. The rites accompany the catholic liturgy and contribute to pass on and affirm even more the Christianity. Songs, performances, scenic representations that help the visitor to know the island tradition.

The most important event of the Christianity, Easter, represents a time of sorrow that becomes time of joy afterwards. An important moment of cathartic re-birth through the sufferings of the God's Son, in which the man's sufferings live again. Christ dies and resurrects. And with Him, the Nature. Easter, in fact, has not the same date every year – the first Sunday after the first full moon and the vernal equinox – because it's the same date of the beginning of the fine weather and boasts ancient venerations linked to the passage of Winter and to the 'sunrise'.

In Forio, the largest of the six municipalities of the island of Ischia, along the main street of the village, in the late morning of Easter Day, occurrs the passion play called the "Angel Run", organized by the ancient Confraternity of Santa Maria Visitapoveri with office in the homonym church in Piazza Municipio.