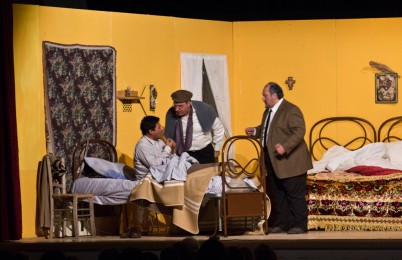 Se la televisione arranca, trascinandosi dietro anche la stampa, e il cinema boccheggia, sfiatato tra il monopolio produttivo e la povertà di idee, il teatro dovrebbe essere già sprofondato, dimenticato, finito. L'abbiamo ereditato come una lieve tara congenita, un difetto di famiglia che solo rarissime morfologie sanno trasformare in pregio. Eppure in ogni paese, scuola o parrocchia ci sono ancora i filodrammatici, compagnie che sudano, studiano, provano e spesso s'inventano qualcosa di nuovo per (re)stare in bilico sulle assi di un palcoscenico. A Ischia il teatro, inteso come casa, non esisteva, non c'era. Cinquant'anni di esibizioni hanno regalato al pubblico suggestioni e sogni, ma senza uno spazio proprio dove custodirle. Si è combattuta una lunga battaglia, con motivazioni talvolta controverse, per avere un teatro, o quanto meno un luogo dove si va a vedere uno spettacolo pagando un biglietto. Uno spazio culturale e artistico al servizio di una crescita consapevole della comunità e di un percorso formativo fatto di competenze, passione, curiosità e quel senso civico indispensabile per ampliare gli orizzonti della nostra identità di cittadini.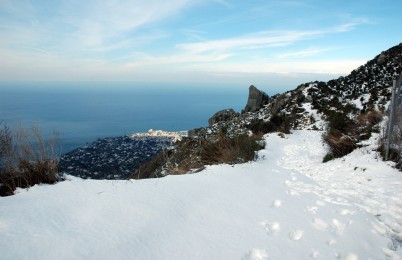 On our island are so many events that draw the attention and offer moments of pure enchantment, moments that reconcile one with life and give one the joy of living the atmosphere of times gone by. One of these is undoubtedly that of the commemoration of the birth of Jesus at the Hermitage of St. Nicola, which stands on top of Mount Epomeo that even during these Christmas holidays will repeat on January 5 2015. The canvas is repeated year to year, but the experience is always new and different, attracting tourists and villagers who want to escape the chaos of everyday life for the fresh air and peace. Appointment is at 10:00 at Fontana in Piazza IV Novembre to climb all together Mount Epomeo. The bell, with its ancient sound, will bring together the pilgrims, and at 11:00 am, pastor can. Don Giovanni Trofa celebrate Mass during which they will perform Christmas music and sing the ancient "Ninna Nanna" of the folk tradition, written by the parish priest Msgr. Giovanni Mazzella at the end of '800. Immediately after all there will be the opportunity to refresh themselves with local food, washed down with wine, white and red, from the cellars of Cesare Mattera, former mayor of the highest and convinced municipality of the island and proud farmer and staunch defender of homegrown traditions.

Often the tourist who decide to visit Forio is inevitably directed towards those that are the focal points of the City such as the Main Course Francesco Regine with its shops; Piazza San Gaetano; the Bay of Citara and the Poseidon Gardens; the Piazzale del Soccorso where admire the beautiful sunsets and hope to see even for a moment the famous "Green Ray".
Outside of these 'must stages', the more discerning visitor who will walk along the country, cannot fail to notice that every corner of Forio tells an event, a story, a different episode. Many pieces of a great history that is lost in the mists of time, and it is a story of battles, traditions, art and faith.

Almost as if it were a duty, at Christmas, all become good, or at least they try. It blooms in us the bud of sharing warmed by the rays of the solidarity of the many events that populate our streets. From the crib of solidarity to the markets of charity. Events organized thanks to the sensitivity of many that offer opportunities to be better people. It is the moment full of joy, friendship, joy and our island wearing the best outfit made of colorful lights, traditional decorations, gospel and jugglers. However, could not Christmas last a whole year? What is it that prevents? Clearly, the "worldliness spiritual" of Christmas... well for those two weeks I would say enough, but the authentic spirituality of Christmas, that one silent and discreet, we should try to practice every day. «Go beyond the surface of things and there encounter what no one could understand, a child lying in the manger and wrapped in swaddling clothes.