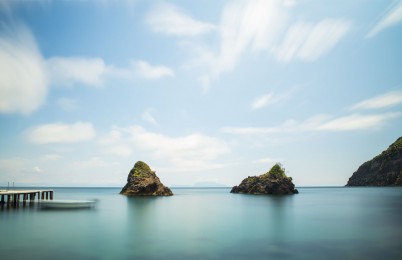 Eden is revealed to visitors trough a thousand forms. Matter of views, with always the same results. Views of regulars or travelers of occasion, arriving by sea sailing over the South routes, the eyes of those who arrive in this place suspended between soul and dream, are very strongly attracted by myriad details. Besides the looks of wonder, though, there are the many different perceptions of the other senses, involving the whole body, then the troughts, in a game of near and distant memories.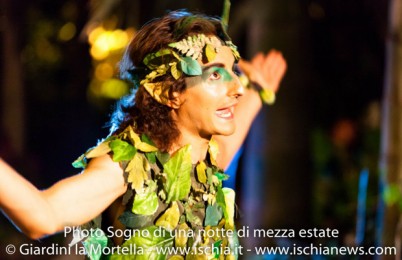 Take the work by William Shakespeare, perhaps the most important playwright of whom recurs this year the 400th anniversary after his death. Take La Mortella and its own private garden, designed by Russell Page, and created since 1956 by Susana Walton, the largest one in Italy and perhaps in Europe. Here plays "A Midsummer Night's Dream" in the mysterious charm of a place that at 21:00 of every Friday of July becomes the home of fairies, elves and goblins that wander through the narrow streets and whose shadows extend unhindered between fountains , ponds and a light sea breeze that floods the promontory of Zaro. Think of a particular tour operator like Platypus specialized in school camps, school trips and excursions, made up of young people from different skills and who has studied the way to bring in this Mediterranean and subtropical nursery, for the first time, the English poet's masterpiece. Think, then, that after two years of trials and projects, today, with the theater company «Artù», in a unique and rewarding synergy, has been realized, "A Midsummer Night's Dream".

From my first day in the kitchen I lived with a nightmare: getting up to speed. Basically I started cooking at an age that for many chefs and cooks is the age of consecrations and satisfaction. Starting cooking at the age of 23 is like deciding to start playing football at the age of 40, your fellow peers have much more experience than you, they have grown up in this world, at 14 years were already internships for kitchens, studied the food at school. When I was 14 I was in charge of the hiring of Aldo uncle canoes, earning my first salary. What I was studying in high school were numbers, equations, logarithms, I wanted to be an engineer...

Among the many pen stories that Ischia this can tell, one that is closest to my heart is certainly exploring the Bubù Cava or Cava del Tamburo.
It may seem a place invented by the pen of an author (in this case I am referring to Danish Vilhelm Bergsøe) and instead really exsists. In th esumme of 2013 we decided to try to find it.
It all started one morning in August; we were at the table inside the Ischian residence of Simone Merola (President of the Naples section of the Italian AlpineClub), along with Lucilla Monti (geologist of the Campania Region to which the island of Ischia has a great deal) to plan (as a good practice) path monitoring and mapping that shortly thereafter we would have done.

Much more than a garden, it is a botanical and landscape oasis, animated by blue reflections of its pools, by the landscapes and microclimate corners unique and unrepeatable. A special place that has enchanted excellent visitors and continues to do so. The list is transformed into a gallery of honor, high-sounding famous names, beautiful and amazing as the colors, the lights, the warmth, and the nuances of habitat: belonging to Gianni Agnelli and Cardinal Joseph Ratzinger; Carla Fracci and Mika Hakkinen, the Formula 1 champion; Italo-German storyteller myths of Boninsegna, Beckenbauer, Breitner and Vogts.

Try to make this gesture, no ritual, along with me, Antonio: go into the vineyard and collect a pile of Forastera, blonde, swollen and mature. Then raise your arm and begins to tighten it slowly through fingers, feeling the crunch of the sweet berries that open, letting the juice flow along the palm and forearm for a bit of seconds. You see: it is only an idea of must, a foreshad-owing of wine.