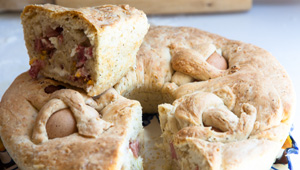 Alessandra happily welcomes us to her kitchen ready to share the secrets of the recipes!!
The Casatiello is a typical Easter dish. At Ale's house becomes "intortanato" because she, generous as she is, just does not give up hard-boiled eggs (a typical ingredient of the tortano) in the dough!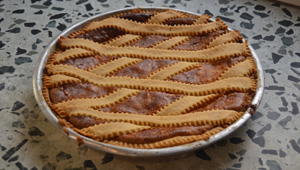 The recipe comes from Grandma Orsalina. I savored it at the home of Gianna, in the historical center of Forio in one of the most picturesque streets in the country!
But the recipe that Gianna expertly prepares was born in Cierco, the beating heart of the country, the district by the vibrant social fabric, authentic and spontaneous. The Pastiera of Grandma Orsolina was the most popular in the district and publish it today for me is a real satisfaction.
Compared to the traditional recipe, this version adds the custard sacrificing cinnamon instead is absent!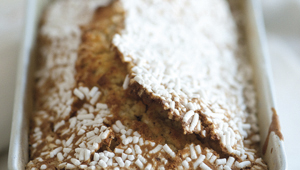 L'arrivo delle belle giornate mette di buon umore, i primi raggi di sole scaldano l'anima e fanno pregustare un'atmosfera di novità. Una voglia di allegria e spensieratezza ci spinge a cercare momenti speciali da condividere con le persone che amiamo. La dolcezza della primavera mi porta a proporvi una ricetta delicata, da gustare in diversi momenti della giornata: un plum cake alla panna, capace, nella sua semplicità, di deliziare grandi e piccini. Il gusto rotondo della panna è impreziosito da golose gocce di cioccolato e da una candida granella di zucchero. La morbidezza di questo dolce lo rende il protagonista ideale di una ricca colazione domenicale, ma possiamo gustarlo anche come dessert o per una merenda pomeridiana, magari accompagnandolo a un profumato tè nero alla vaniglia.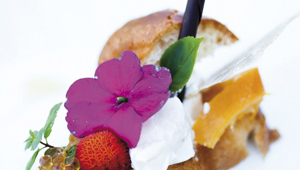 Ingredienti:
+ 500 g di farina forte
+ 10 g di sale
+ 45 g di zucchero
+ 10 g di miele di acacia
+ 225 g di burro
+ 1 arancia grattugiata
+ 1 limone grattugiato
+ 1/2 bacca di vaniglia
+ 650 g di uova
+ 18 g di lievito di birra
+ 25 g di acqua
+ 18 g di lievito di birra
+ 25 g di acqua