Terme della Regina Isabella
Lacco Ameno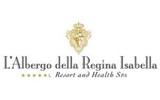 Lacco Ameno - 80076
P.zza Santa Restituta
+39 081994322
fax +39 081900190
About Terme della Regina Isabella
The Baths of Regina Isabella Hotel wants to be a hymn to life and vitality, well-being that comes from the balance between body, mind and spirit. The regenerating properties of water are enhanced multi active expertly by a continuous and accurate scientific research. In keeping with the hotel's philosophy, the Baths of the Regina Isabella to know you love to give you what you want. Tell us what your lifestyle and with the support of our medical team will build your optimal route, suitable to our parameters, tailored to your wishes. Because balance is the key to harmony.
Beauty Treatments
Cellulite treatments, beauty, body and face, cold therapy, Endermologie LPG, sauna, Turkish bath - hammam, hair removal based natural waxes, hair removal for men (back, chest).
Thermal treatments
Mud therapy, thermal bath, Jacuzzi, circulatory massage, inhalation, aerosol, spray, humage, lymphatic drainage, pressure therapy with bandages, Vichy shower spa, Kneipp, osteopathic treatment, hydrokinetic.
Treatments in agreement with the N.H.S.
Mud therapy, thermal baths, inhalations and aerosols.
offerte
Dal 27-03-2013 al 07-11-2013
Dal 27-12-2013 al 06-01-2014
Disponibilità

Prenota

Booking non disponibile
Nelle Vicinanze
servizi

Aperto a Natale

Aperto a Pasqua

Beauty center

Palestra

Parcheggio

Sauna e/o bagno turco

Stabilimento termale convenzionato

Transfer