Hotel La Reginella Resort & Spa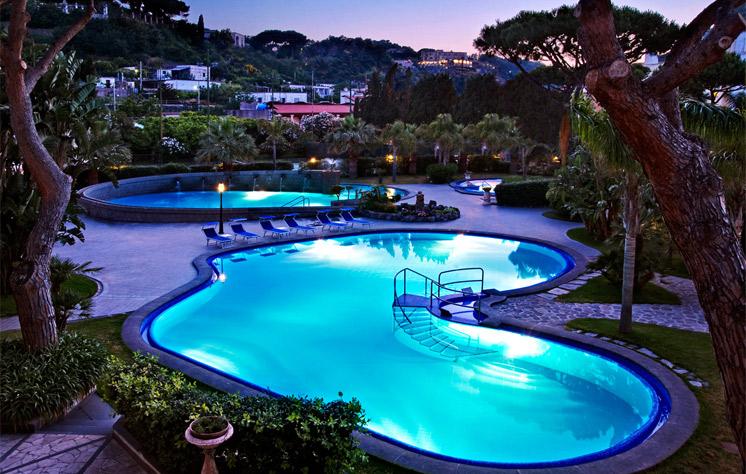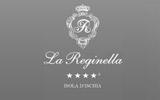 Lacco Ameno - 80076
P.zza Santa Restitua, 1
+39 081994300
fax +39 081980481
About Albergo La Reginella
The Albergo Terme La Reginella, is a discreet and sheltered hotel situated in one of the most elegant centres on the island, where unrivalled hospitality and atmosphere have been offered to personalities from the show business and the international jet set since the early 1950s when they began visiting Lacco Ameno.
The pastel colours of the furnishings and the Neapolitan majolica tiles decorated by hand, combine to create an elegant, fresh and enjoyable ambience.
The large garden, with its lush green subtropical plants, flowers and giant strelizias, is the setting for the outdoor pools, each at a different temperature, and also serves as the "entrance hall" to the indoor one
Rooms
Our rooms totally renewed open to the charming scenery of Piazza S. Restituta, hearth of the characteristic small town center of Lacco Ameno or towards the vista of picturesque Epomeo Mount, amazing background of our park-garden.
Pools
The thermal park "Europeo Club", is the star feature of the hotel and is open for our guests from early morning until evening.
It comprises four thermal pools, a sea water one and a natural sauna
Restaurant
Fresh and genuine ingredients, seasonal fruit and vegetables, fish from our seas, are the ingredients of our cuisine, based on traditional Neapolitan recipes, with a few innovations.
The spacious and elegant dining room of the hotel, during the hot summer months, gives way to the "al fresco" restaurant in the garden under the typical Mediterranean pergola.
Breakfast welcomes our guests with a rich buffet featuring, amongst other specialties, our home made pastry and fresh seasonal fruit.
Spa
When in the 7th century BC the Greek settlers came to Ischia from the island of Euboea, they chose the bay of San Montano to build their port facilities and their necropolis, while they built their acropolis on the promontory of Monte Vico, where today the Albergo San Montano stands.
It was the Greeks who first used the island's hot waters.
These after a period of oblivion, were again "discovered" by the Romans during the imperial period. After the fall of the Empire again the benefits of these waters were forgotten, until the 17th century when Iasolino, a doctor on Ischia, conducted a scientific study of their properties.
After Iasolino an ever increasing number of eminent doctors applied scientific methods to the study of these thermal waters.
These studies confirmed the therapeutic properties of the thermal waters of Ischia from the scientific point of view, thermal treatments nowadays classified as medical therapy by the Italian Ministry of Health.
Most important is the preventive effect that thermal treatments have on the body, in fact they have a reinforcing action on the immune system increasing its efficiency in fighting the onset of illnesses.
A wide range of treatments and wellness packages is available at our wellness centre for those who wish to combine the benefits of thermal therapies with those of beauty treatments and massages.
offers
From 15-03-2016 to 31-12-2016

Availibility

Book

Booking not available
In the neighbourhood
Hotel facilities

Open at Christmas

Open at Easter

Air conditioning in room

Elevator

Dryer in room

Baby sitting

Thermal baths

Bar

Beauty center

Tv in room

Credit cards

Safebox

Mini-bar in room

Internet

Gym

Parking

Private Park and Garden

Piano bar

Ping pong

Indoor swimmingpool

Outdoor swimmingpool

Central heating

Restaurant

Meeting service

Sauna and/or Turkish bath

Servizio invalidi

Solarium

Agreed thermal establishment

Telephone in room

Tennis

Transfer on request