Hotel La Bagattella
4 star Hotel
Forio d'Ischia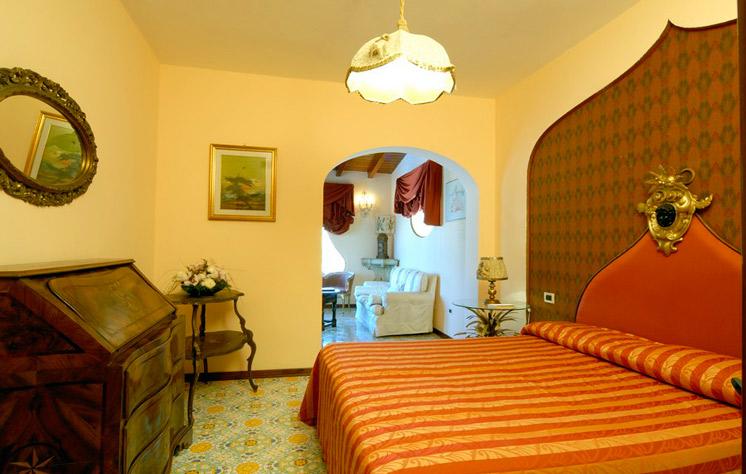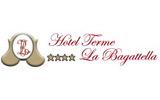 Forio d'Ischia - 80075
Via Tommaso Cigliano, 8
+39 081986072
fax +39 081989637
About Hotel Terme La Bagattella
The structure was born as a private villa and then transformed in a hotel in 1965. The hotel maintained unchanged its structural characteristics of a nineteenth-century villa. All the tropical plants that surround the hotel create a one-time atmosphere in one of the most evocative and peaceful areas in Forio. In addition, the hotel is located in a position of extraordinary beauty in the charming bay of Saint Francesco, at about150 meters from the sea and 1200 meters from the center of Forio. The distinguished and welcoming atmosphere makes this place a true oasis of peace. The name "La Bagattella" was inspired by the name that a French princess gave to her private appartment that she used to meet her lover.
Rooms
Comfort and originality are the elements that mark the rooms of this hotel. Some of the rooms have beautiful balcony and terrazzo while others have a charming private view of the flower garden. Each room is just the perfect corner of tranquility and privacy. Moreover, all the rooms are equipped with satellite TV, cable broadcast, safe, mini-bar, bathtub or shower, hair dryer and Wi FI.
The hotel, having already a best position, has been restructured in 2008, in addition to its rooms, other rooms and suites have been created completely sound-proof, with an own central heating and colour-therapy and the extension of luxuriant gardens in order to make the hotel a perfect structure to spend relaxing holiday. The hotel has also single, double, triple, Junior Suite and Suite.
Pools
Immersed in our wonderful garden, you can find a pool with mineral water at environment temperature, were you can relax, enjoy the beautiful sunshine of Ischia and enjoy local cooking on pool's border.
Restaurant
The Hotel Terme La Bagattella, wich provides half board treatment, offers a restaurant service à la carte.
The restaurant "Capriccio Italiano" is on pool's border inside a wonderful garden and luxurious plants. Customers will be welcomed in a pure lecherous and elegant environment, having the chance to live a relaxing and good tasting afternoon staying in the hotel and feeling home at the same time. From 12.30 AM to 3.00 PM the restaurant is open to everyone who wants to taste our hot specialities. The cooking is really cared, simple and refined at the same time, offering a wide range between tipical local food, starting from the "coniglio all'ischitana" the "Penne allo Scarpariello", the "M'pepata di cozze" ending with the "Linguine allo scoglio".
Our chef, that follows since years our kitchen with great professionality, thanks his talent and his experience meets every single customer's need with diet cooking and vegetarian cooking, regional cooking and international cooking for everyone that loves good eating and not. All this accompanied with a good wine chosen between the bests local, regional and international cellars.
A small paradise where gàla nights with candle lights and theme nights make your vacation even richer and unforgivable. Every week Pizza nights, symbol of the italian cooking art.
At sunset, guitars and mandolins at your table to enliven your evenings, twice weekly live piano bar and fun for all.
Finally hot croissants and sfogliatelle for a sweet night!
Wellness
Our facility, recently restructured with precious woods and stucco, offers every type of aesthetic treatment with highly qualified staff. You have only one body, take care of it. Forc and health are inside us. In our wellness area you'll feel at ease. Here you'll find massages, wellness baths and all you need.
offers
From 23-04-2016 to 02-11-2016

Availibility

Book

Booking not available
In the neighbourhood
Hotel facilities

Playground

Open at Christmas

Open at Easter

Air conditioning in room

Elevator

Dryer in room

Baby sitting

Bar

Beauty center

Tv in room

Dogs allowed

Credit cards

Safebox

Mini-bar in room

Internet

Gym

Parking

Private Park and Garden

Piano bar

Indoor swimmingpool

Outdoor swimmingpool

Central heating

Restaurant

Meeting service

Sauna and/or Turkish bath

Solarium

Telephone in room

Transfer on request