Grand Hotel Punta Molino
5 star Hotel
Città d'Ischia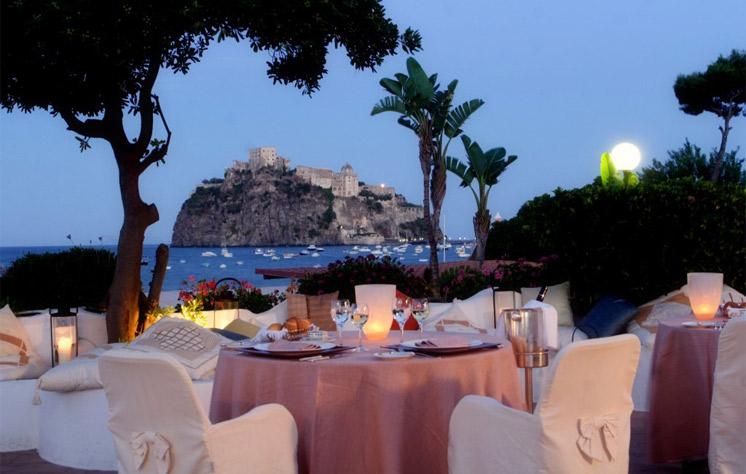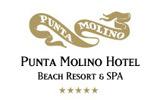 Città d'Ischia - 80077
Lungomare C. Colombo, 23
+39 081991544
fax +39 081991562
A 5 star hotel in the heart of Ischia Porto overlooking the sea
In one of the most prestigious parts of the island of Ischia, which to the appeal of history adds the charm of nature, a nature which envelops it in pine forest and surrounds it with sea, is located the Grand Hotel Punta Molino, masterpiece of organic architecture by architect Giulio De Luca. The plastic lines and dynamics of the structure balance perfectly with the marine landscape of the Lido of Ischia, and with the interiors, where precious antiques, subtle pastel colours and sunlight create an atmosphere which is extremely pleasant and relaxing.
Rooms
The rooms are all panoramic, some with sea views, others overlook a lush park. The Grand Suites, located mainly on the upper floors of the Tower and the main entrance, are distinguished by the elegant and comfortable living rooms, large bedrooms and the magnificent sea views. Also characterized by furniture in style, precious tiles, curtains and a selected amenities include: air conditioning, telephone, TV - Color satellite, radio, Internet Mini Bar, Hair dryer, personal electronic safe.
Restaurant
A romantic restaurant facing onto the sea, the furnishings and materials of which reflect the freshness and delicacy of the marine panorama which surrounds it, awaits you with menus rich in regional specialities accompanied by an important list of national and foreign wines. Attentive service and expert wine stewards make the Punta Molino restaurant a perfect place for candle-light dinners and gala evenings.
Pool and beach
he Grand Hotel Punta Molino has three swimming pools at different temperatures: a large one for sports, which is by the sea, and supplied with fresh water and maintained at ambient temperature, and two warm pools with thermal water, with temperature between 32° and 36°C, one of which is in open air, on the terrace overlooking the sea and the other inside the wellness center, and this has the particular characteristic of being set on a bed of volcanic rocks. In the thermal pools, relaxation and wellness treatments are applied under the guidance of the wellbeing center.
Spa
The beauty can not ignore the health of the individual and his well-being. The health center and beauty, inside the hotel and the sea, offers the most exclusive treatments for face and body, with cosmetic treatments coupled with a wide range of therapies. The products used are the result of a careful selection based on the effectiveness of the active principles of plants.
offers
From 22-04-2016 to 31-10-2016

Availibility

Book

Booking not available
In the neighbourhood
Hotel facilities

Playground

Open at Easter

Air conditioning in room

Elevator

Baby sitting

Thermal baths

Bar

Beauty center

Tv in room

Dogs allowed

Credit cards

Safebox

Mini-bar in room

Internet

Gym

Parking

Private Park and Garden

Piano bar

Ping pong

Indoor swimmingpool

Outdoor swimmingpool

Central heating

Restaurant

Meeting service

Sauna and/or Turkish bath

Servizio invalidi

Solarium

Private beach

Agreed thermal establishment

Telephone in room

Tennis

Transfer on request