Eloart Gallery

Forio d'Ischia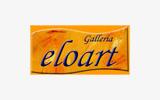 Forio d'Ischia - 80075
Via Marina, 12/30
+39 0815071314
fax +39 0815071314
Galleria Eloart
The Eloart Gallery was founded in 1998 by Eva Eleonore Sachs multifaceted artist (sculptor and painter), art lover, and is directed by another artist, painter, Raffaella Bacarelli. The main purpose of its activities is to promote and support the career and established artists, young and old in all art disciplines.
The gallery has the largest exhibition space in Campania, organizes exhibitions in collaboration with municipalities and government agencies. The main work have been devoted to the following artists: Raffaele Di Meglio, Luigi Coppa, Giuseppe Carta, Rolf Feddern, Mario Guarini, Jean-Marie Manzoni, Gabriel Mattera, Mariolino, Elsa Morales, Chihiro Shimotani, Enzo Rando, Gianni Castagnoli, and this year Andy Warhol and Alessandro Gianvenuti.
To the numerous in numerous group exhibitions: Nuccio Fontanella, Pio Scippa, Taki, Giovanni De Angelis, Giovanni Di Costanzo, Raffaele Di Meglio, Francesco Miranda, and others.
Facilities

Credit cards

Reachable by car