Autonoleggio Del Franco

Città d'Ischia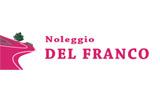 Città d'Ischia - 80077
Via Alfredo De Luca, 133
081 991334

Autonoleggio Del Franco
Attractive opportunities to discover Ischia one of the most beautiful Neapolitan islands in comfort and fun. Give a new flavour to your holiday, hire Del Franco for over 50 years, has experience in the art of two wheels, available to its customers.
Sale, rental and service for scooters, bikes and cars.
Scooter 50, 125, and 150 d.c. always the leading brands, single speed, easy to drive, equipped with helmets and accessories.
A huge range in the new CAR Park, ideal for car with a small, powerful engine on the streets of our island; Fiat Panda cars from classic to newer smart and witty as well as the always current and fresh Mini Moke. And for sports lovers and direct contact with nature, a vast assortment of Mountain Bike with suggested routes to go inside.
Friendliness, courtesy and home delivery or at the port to make your usual holiday, something special.
Affordable and acceptable conditions always available below for easy booking.
Open from 01-01-2012
to 31-12-2012

Mon
Tue
Wed
Thu
Fri
Sat
Sun
MORNING
AFTERNOON
Facilities

Open all year

Credit cards

Reachable by car