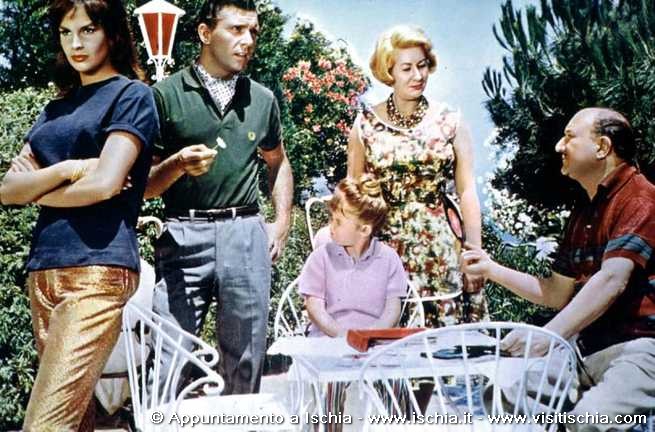 NIn '60, directed by Mario Mattioli, the film "Appointment in Ischia", where Mimmo, or Domenico Modugno, is a famous singer, a widow with a daughter, Letizia, to whom will give a mother. But the girl does not accept the current girlfriend of her father, growing fond of a young man, who wants as mother. The child creates many situations, such as coming to Ischia for treatment with mud, so that the two would meet and s' fall in love. Obviously in this case the location preference are those of Lacco Ameno, with a beautiful waterfront scene of the course that connects Casamicciola to Lacco Ameno traveled by carriage from Modugno with his daughter.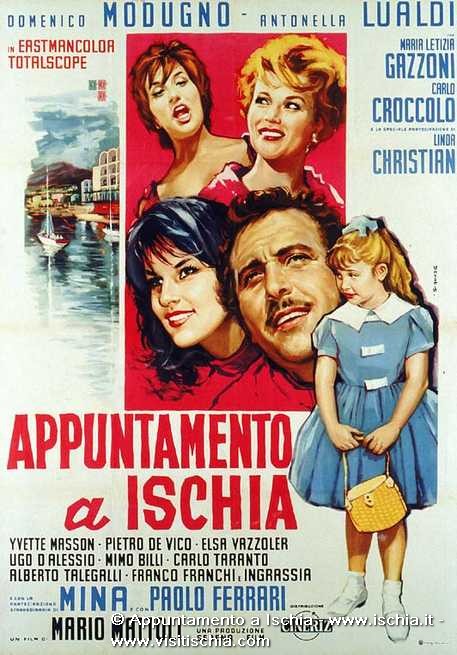 Title APPUNTAMENTO A ISCHIA

Release date(s) 1960

Genre COMEDY

Running time 99 Min

Production ROMANO DANDI PER LA SERENA FILM

Direction MARIO MATTOLI
Starring: Domenico Modugno, Ciccio Ingrassia,
Franco Franchi, Mina, Pippo Franco

Photography: Roberto Gerardi, Marco Scarpelli

Editing: Adriana Novelli

Music: Gianni Ferrio
Plot
Mimmo is an acclaimed singer of modern songs, which leads around the world for his art in continuous torunées. The singer is widowed and has a daughter of nine years, Letizia, who is forced to follow his father in his wandering, unless Mimmo decides to put her in college, would recommend as Mercedes, his partner and friend of art. Letizia is introduced to Mirella Argenti, a good girl, the daughter of musicians and engaged to a conductor, Paolo and this chance encounter awakens in the child the desire to have Mirella as a mother and causes it to implement the tricks to make his dream come true, and Mercedes has moved away. The wiles of Letizia cause embarrassing situations that lead Mimmo to put the child in college, and the resume at home, to her delight, just after marrying Mirella.