Aenaria Beauty Center

Città d'Ischia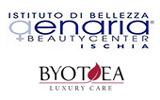 Città d'Ischia - 80077
Via Morgioni, 11
+39 360749926 - +39 3297793694
About Aenaria Beauty Center Ischia
Beauty Institute Aenaria ischia Beauty Center, is strategically located in the town of Ischia. In our school you will find all the experience and aesthetic beauty that is required, supported by the professionalism and quality service. We use only natural products.
Beauty Treatments
Wrap legs, breast treatment, body scrub, with massage, body treatment, facial mud mask, facial massage, deep facial cleaning, facial treatment, anti-stress massages, reflexology, finger pressure, lymphatic drainage, shiatsu, massage cellulite / shaping / toning, waxing cold, electric hair removal and much more!
Price list
Body Peeling 50,00
Body treatment 70,00
Breast treatment 30,00
Beauty Massage per minute (minimum 20) from 20,00
Color.Ciglia/Sopracc. 15,00
Full Face Treatment 30,00
Mud Face Mask 25,00
Deep Cleaning Face 60,00
Deep Cleaning Face 60,00
Complete Deep Cleansing + Face 90,00
Sauna 10,00
sunlamp 5,00
shower 10,00
reconstruction nail application 130,00
reconstruction toe 30,00
Ricost / apps. nail hand 15,00
Nail gel from 50,00
Manicure 15,00
Pedicure 25,00
Waxing Cold from 5,00
From 01-01-2013 to 31-12-2013
Disponibil>

{emailcloak=off}

Prenota

Booking non disponibile
Nearby
services

Open all year

Open at Christmas

Open at Easter

Beauty center

Credit card

Gym

Sauna and/or Turkish bath

Transfer