Ischia Car Service

Città d'Ischia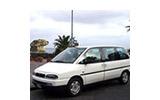 Città d'Ischia - 80077
Isola d'Ischia
081 901758 - +39 3358069979
Ischia Car Service
Ischia Car Service is a transport business that operates to Ischia to any destination, Italian and European.
Ischia Car Service offers a transfer service from the steps of the plane, train or house directly to the hotel room, without having to change the car or driver.
Booking a car you ensure maximum comfort and maximum safety for transfer to Ischia.
In our car fleet we have vehicles for every customer need, including: the Mercedes E-Class, for a maximum of four people, while for larger groups have vans like Fiat Ulysses or Volkswagen Caravelle.
Open from 01-01-2012
to 31-12-2012

Mon
Tue
Wed
Thu
Fri
Sat
Sun
MORNING
AFTERNOON
Facilities

Credit cards

Reachable by car