Hotel & Spa Miramare e Castello
5 star Hotel
Città d'Ischia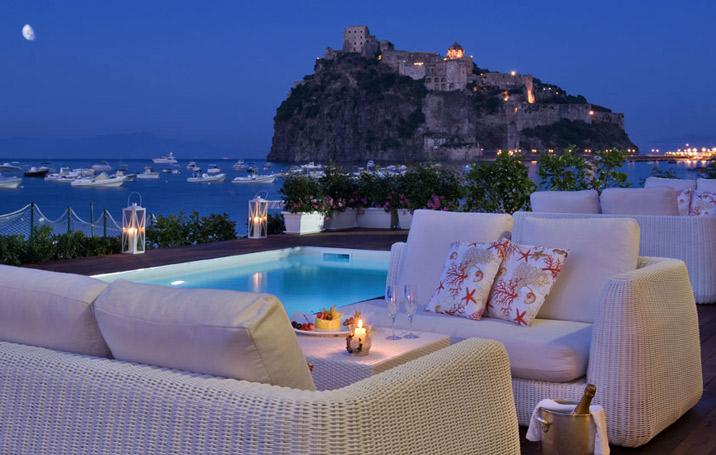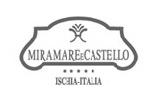 Città d'Ischia - 80077
Via Pontano, 5
+39 081991333 - +39 081984572

About Hotel & Spa Miramare e Castello
The Hotel Miramare Castle is an exclusive 5-star luxury hotel on the island of Ischia. It's located on the sea with private beach, spa, outdoor swimming pool, indoor pool, two Jacuzzi on the roof garden, with à la carte restaurant and free for taccess for guests to the enchanting Thermal & Beach Resort "The Eden Garden". With the new management group Alysandy Luxury Hospitality, and especially after a long and painstaking restoration, the Miramare Castello and back strongly in the tourist offer of the highest standards of quality, very important for guest. Please enjoy a selection of some of the best pictures of our hotel, along with a short video to see how we are ready to propose a view of a stay-vacation truly live up to your expectations.
Rooms
Rooms and suites with attention to detail to ensure the well-being you need. Interior precious, incomparable views from the terraces to the large windows with views overlooking the gulf and the Phlegrean coast. All the rooms have air conditioning (individually controlled), direct dial telephone, hair dryer, bathrobe, bathroom amenities, minibar, safe, satellite TV, Sky vision gold TV, pay per view.
Restaurant
Breakfast: International Breakfast buffet served on the roof garden from June to September, or in the restaurant overlooking the sea. Featuring fresh pastries (4 different types of cakes and croissants, and 4 of the day), 7 types of bread and crackers, cereal, assorted fresh fruit, preserves, honey, fruit syrup, scrambled eggs and bacon. Refrigerated with: cold meats, salami, ricotta, mozzarella, butter, Parmesan cheese, yogurt different flavors. Sparkling cold. Hot drinks are served at the table by the staff involved. You can, at extra charge, breakfast in the room with continental breakfast.
Lunch: a la carte service in the restaurant on the pier, where guests enjoy delicious local cuisine, terracotta floors, wrought iron tables and chairs and large umbrellas to create shelter and refreshment.
Dinner: Served at the elegant restaurant with panoramic sea views, the Aragonese Castle and Procida. Silver cutlery and white porcelain plates. Soft lighting with candles on every table.
Spa
Use only their mineral-rich waters, taken directly, continuously, from the source without any treatment. The composition of salt, bromine and iodine is supplemented by the ion chloride, sulphate, which enriches the therapeutic properties for the benefit of additional dermatological diseases. The waters were known since 1600, an era in which they were exploited and marketed under the name "Water Mirtina", at the nearby Franciscan Monastery of St. Anthony.
Applications range from mud, thermal baths, do not neglect the healing properties for skin, effective in aesthetical applications. As inhalations and aerosols are the ideal protection for respiratory care and more natural to avoid chronic diseases.
offers
From 20-04-2013 to 31-10-2013

Availibility

Book

Booking not available
In the neighbourhood
Hotel facilities

Open at Easter

Air conditioning in room

Elevator

Dryer in room

Baby sitting

Thermal baths

Bar

Beauty center

Tv in room

Dogs allowed

Credit cards

Coeliac cuisine

Safebox

Mini-bar in room

Internet

Gym

Parking

Private Park and Garden

Piano bar

Indoor swimmingpool

Outdoor swimmingpool

Central heating

Restaurant

Meeting service

Sauna and/or Turkish bath

Servizio invalidi

Solarium

Private beach

Telephone in room

Transfer on request