Hotel La Mandorla
3 star Hotel
Barano d'Ischia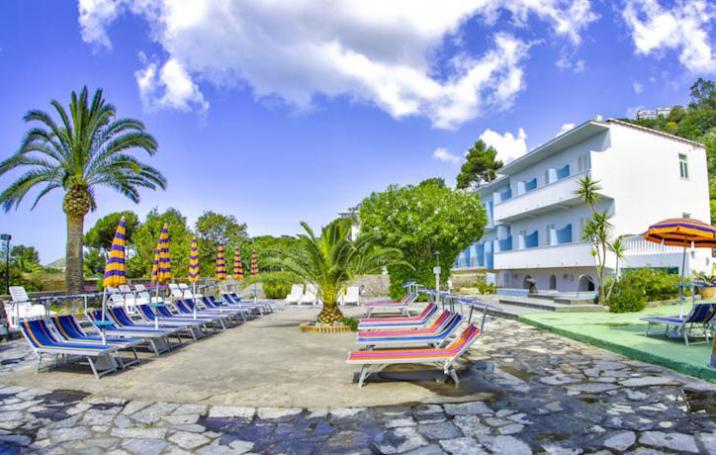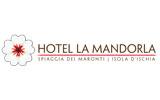 Barano d'Ischia - 80070
Via Maronti, 39
+39 081990046
fax +39 081906211
A corner of paradise and relaxation for days of pure well-being
The hotel La Mandorla*** is a corner of paradise and relaxation for days of pure well-being, only 50 meters from the biggest beach of Ischia, Maronti.
A place where the rays of the sun are the most brilliant, where the sun is the hottest, where the breeze of the sea will caress you all day, and where the summer never ends. Your holiday will begin between the sea and the mountains, in the legend of the Mediterranean.
Rooms
There are 36 rooms in the hotel La Mandorla, each of them furnished with particular grace and care in order to give comfort and intimacy to those who stay here. Most of our rooms look south and offer a splendid sea-view, so when one opens the window they are overflowed with light, the sun and the odor of the sea. Each room has a nice terrace or a balcony. All of them have a private bathroom equipped with a bath or a shower, a telephone with a direct connection, a ventilation device or air-conditioning.
Restaurant
The attention to the quality and the freshness of ingredients, the difficult balance between the taste and lightness, the interlacement of odors of the sea and the earth characterize our table, a tribute to the refined culinary tradition of the island of Ischia and to the most favorite recipes of the Mediterranean diet. In August the breakfast will be also served in the restaurant, during the other summer months the breakfast is usually served on the terrace.
Pools
Two swimming-pools filled with thermal water are available to our guests for the moments of relax and natural well-being. One of the swimming-pools is outside, the other one with a hydro-massage is covered so one can choose to stay in the sun or in the shade. Around the swimming-pools you will find a sun deck with chaise lounges and umbrellas surrounded by vegetation and shaded by palm-trees.
Beach
Passing thru a fresh lane shaded with oleanders and bougainvillea in a few minutes you will reach the private beach of the hotel La Mandorla situated on the fantastic coast of Maronti, the biggest one on the Ischia island. Beach chairs and umbrellas for enjoying days of sea and sun are available for our guests free of charge.
offers
From 01-05-2015 to 30-09-2015

Availibility

Book

Booking not available
In the neighbourhood
Hotel facilities

Air conditioning in room

Dryer in room

Thermal baths

Bar

Tv in room

Dogs allowed

Credit cards

Safebox

Internet

Parking

Private Park and Garden

Outdoor swimmingpool

Central heating

Sauna and/or Turkish bath

Solarium

Private beach

Telephone in room

Transfer on request

WiFi