VI Naples Urban Sketchers Workshop Italy
From Sat 07 October 2017 alle Ore 09:30 until alle Ore 20:00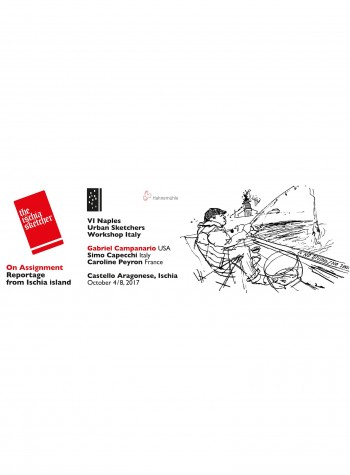 Dopo cinque edizioni di successo, ecco la nuova proposta per il prossimo autunno: "On Assignment" (letteralmente "su commissione") vi trasformerà per cinque giorni in inviati speciali, alle prese con la redazione di un reportage collettivo sull'isola di Ischia.
Programma Sabato, 7 ottobre / In rosso le attività aperte a tutti
Ore 9.30 - 13.00 (divisi in tre gruppi)
- Group A: Caroline Peyron, The Mnemonic Castle
- Group B: Gabriel Campanario, Vignettes from Ischia Ponte
- Group C: Simo Capecchi, The sketched interview
14.00 - 17.30 (partecipanti e instructors insieme)
I partecipanti completano il loro lavoro e consegnano i disegni in versione digitale e il testo via email (ci organizzeremo per foto o scansioni) per essere composti per la stampa.
Ore 18.00 - Workshop final exhibit in Castello Aragonese
Iscrizione:
€ 270 (includono le ore di workshop secondo il programma).
Il 10% del ricavato va all'associazione no profit Urban Sketchers.
Per iscriversi email a:
This email address is being protected from spambots. You need JavaScript enabled to view it.
*Eventuali spese di trasporto collettivo sull'isola (per le attività pomeridiane) sono a carico dei partecipanti.
Partecipanti: max 35 / min 15. Ogni livello di esperienza è benvenuto.
Lingua: Inglese. Traduzione in italiano quando necessario.
Alloggiare a Ischia: l'Albergo il Monastero, situato all'interno del Castello Aragonese di Ischia, propone ai partecipanti uno sconto del 20% sulle loro tariffe per una camera doppia. Per beneficiare di questa offerta prenotate il prima possibile, le camere disponibili sono poche: This email address is being protected from spambots. You need JavaScript enabled to view it.
Altre sistemazioni si possono trovare nella zona di Ischia Ponte antistante il castello oppure sul sito di Airbnb.